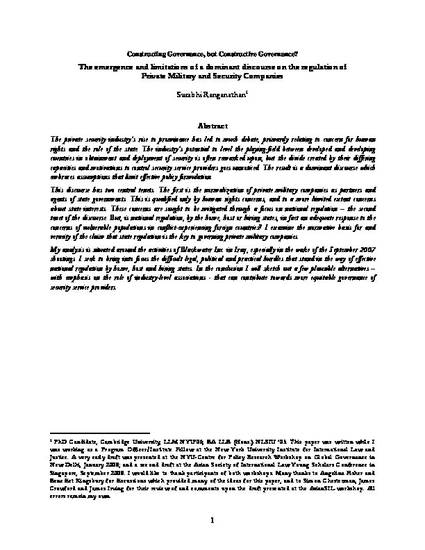 Unpublished Paper
Constructing Governance, but Constructive Governance? The emergence and limitations of a dominant discourse on the regulation of Private Military and Security Companies
ExpressO (2009)
Abstract
The private security industry's rise to prominence has led to much debate, primarily relating to concern for human rights and the role of the state. The industry's potential to level the playing-field between developed and developing countries in obtainment and deployment of security is often remarked upon, but the divide created by their differing capacities and motivations to control security service providers goes unnoticed. The result is a dominant discourse which embraces assumptions that limit effective policy formulation.
This discourse has two central tenets. The first is the normalization of private military companies as partners and agents of state governments. This is qualified only by human rights concerns, and to a more limited extent concerns about state interests. These concerns are sought to be mitigated through a focus on national regulation – the second tenet of the discourse. But, is national regulation, by the home, host or hiring states, in fact an adequate response to the concerns of vulnerable populations in conflict-experiencing foreign countries? I examine the normative basis for and veracity of the claim that state regulation is the key to governing private military companies.
My analysis is situated around the activities of Blackwater Inc. in Iraq, especially in the wake of the September 2007 shootings. I seek to bring into focus the difficult legal, political and practical hurdles that stand in the way of effective national regulation by home, host and hiring states. In the conclusion I will sketch out a few plausible alternatives – with emphasis on the role of industry-level associations - that can contribute towards more equitable governance of security service providers.
Keywords
private military companies,
private security,
discourse hegemony,
politics of resdcription,
Blackwater,
Iraq,
Africa,
United States
Publication Date
February 20, 2009
Citation Information
Surabhi Ranganathan. "Constructing Governance, but Constructive Governance? The emergence and limitations of a dominant discourse on the regulation of Private Military and Security Companies"
ExpressO
(2009)
Available at: http://works.bepress.com/surabhi_ranganathan/1/