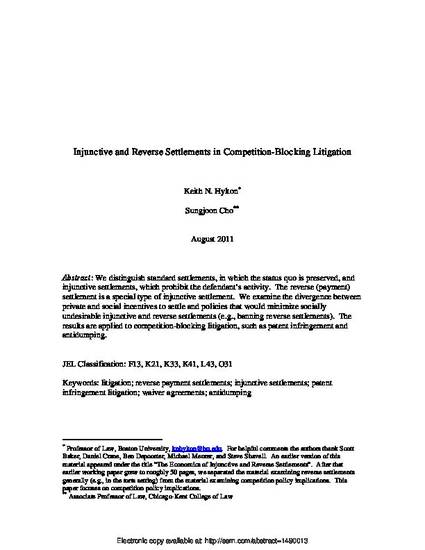 Article
Injunctive and Reverse Settlements in Competition-Blocking Litigation
European Journal of Law and Economics (2013)
Abstract
We distinguish standard settlements, in which the status quo is preserved, and injunctive settlements, which prohibit the defendant's activity. The reverse settlement is a special type of injunctive settlement. We examine the divergence between private and social incentives to settle and policies that would minimize socially undesirable injunctive and reverse settlements (e.g., banning reverse settlements). The results are applied to competition-blocking litigation, such as patent infringement and antidumping.
Citation Information
Injunctive and Reverse Settlements in Competition-Blocking Litigation, 33
European Journal of Law and Economics
243 (2013) (with Keith N. Hylton).