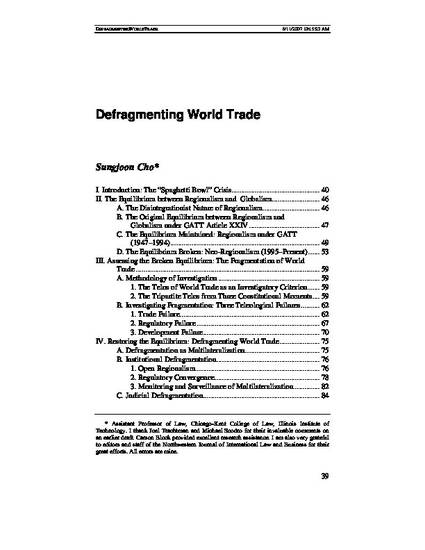 Article
Defragmenting World Trade
Northwestern Journal of International Law & Business (2006)
Abstract
This article argues that unchecked multiplication of regional trading blocs seriously fragments world trade, and simultaneously debilitates the multilateral trading system. It endeavors to overcome some of shortcomings of existing literature in this field, such as sector-specific approach and concentration on economic analysis. It attempts to offer holistic, normative diagnosis and prescription anchored by the trade, regulatory, and development objective of the global trading system represented by the WTO. From such a telic standpoint, the article highlights teleological failures caused by regionalist fragmentation and proposes both institutional and judicial means to defragment world trade. The article warns that such regionalist fragmentation is trade diverting, rather than trade creating, and tends to hijack the multilateral trade negotiations under the WTO, thereby depriving the current Doha Round of its deserved attention and confidence – possibly even torpedoing the Round entirely. It concludes that to defragment world trade, regional trading blocs should be re-configured to conform to a federalistic order in the constitutional terrain of the multilateral trading system through two multilateralizing solutions – one institutional and one judicial.
Publication Date
February, 2006
Citation Information
Defragmenting World Trade, 27
Northwestern Journal of International Law & Business
39 (2006).