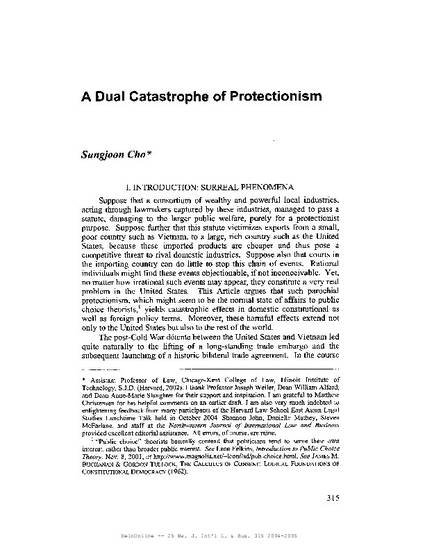 Article
A Dual Catastrophe of Protectionism
Northwestern Journal of International Law & Business (2005)
Abstract
This Article argues that rampant parochial protectionism in the United States, a striking example of which is the recent skirmish over the Vietnamese seafood trade, yields catastrophic effects in domestic constitutional as well as foreign policy terms. Moreover, these harmful effects extend not only to the United States but also to the rest of the world. The Article consists of four Parts. Part I documents the trade dispute over Vietnamese catfish and shrimp exports to the U.S. market, with special attention to the question of how powerful southern lobbies prevailed over the broader economic interests of consuming industries and consumers. Part II explores the roles played by all three governmental branches – direct as well as indirect, actual as well as potential – in facilitating and enabling this distortion of free trade principles. Part III addresses the devastating effects, both internal and external, of this kind of protectionism; namely, that such measures result in a dual catastrophe in the sense that they serve parochial interests at enormous expense to the United States and the global economy (i.e., "constitutional failure"), while gravely damaging the reputation of the United States abroad (i.e., "foreign affairs failure"). To avoid similar catastrophes in the future, Part IV suggests that the United States must achieve greater legislative and procedural transparency both domestically and internationally, through a more inclusive policy-making process and a stronger commitment to multilateralism. Finally, the Article concludes by arguing that the United States must play a more authentic leadership role in the international community, rather than resorting to the dead-end of Exceptionalism.
Publication Date
February, 2005
Citation Information
A Dual Catastrophe of Protectionism, 25
Northwestern Journal of International Law & Business
315 (2005).