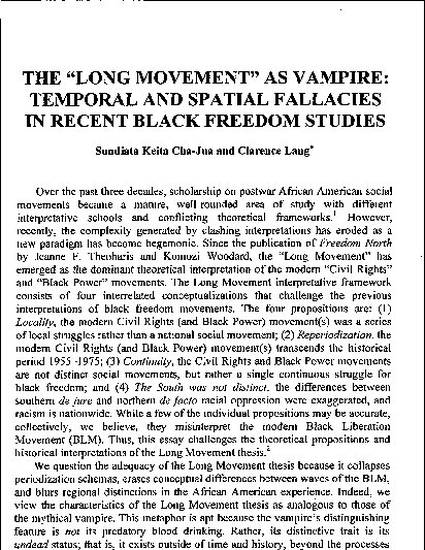 Article
"The 'Long Movement' as Vampire: Temporal and Spatial Fallacies in Recent Black Freedom Studies."
Journal of African American History (2007)
Abstract
Over the past three decades, scholarship on postwar African American social movements became a mature, well-rounded area of study with different interpretative schools and conflicting theoretical frameworks.' However, recently, the complexity generated by clashing interpretations has eroded as a new paradigm has become hegemonic. Since the publication of Freedom North by Jeanne F. Theoharis and Komozi Woodard, the "Long Movement" has emerged as the dominant theoretical interpretation of the modem "Civil Rights" and "Black Power" movements. The Long Movement interpretative framework consists of four interrelated conceptualizations that challenge the previous interpretations of black freedom movements. The four propositions are: (1) Locality, the modem Civil Rights (and Black Power) movement(s) was a series of local struggles rather than a national social movement; (2) Reperiodization, the modem Civil Rights (and Black Power) movement(s) transcends the historical period 1955-1975; (3) Continuity, the Civil Rights and Black Power movements are not distinct social movements, but rather a single continuous struggle for black freedom; and (4) The South was not distinct, the differences between southem de jure and northem de facto racial oppression were exaggerated, and racism is nationwide. While a few of the individual propositions may be accurate, collectively, we believe, they misinterpret the modem Black Liberation Movement (BLM). Thus, this essay challenges the theoretical propositions and historical interpretations of the Long Movement thesis.
Publication Date
Spring 2007
Citation Information
Sundiata K Cha-Jua and Clarence E. Lang. ""The 'Long Movement' as Vampire: Temporal and Spatial Fallacies in Recent Black Freedom Studies.""
Journal of African American History
Vol. Vol. 92 Iss. No. 2 (2007)
Available at: http://works.bepress.com/sundiata_chajua/5/