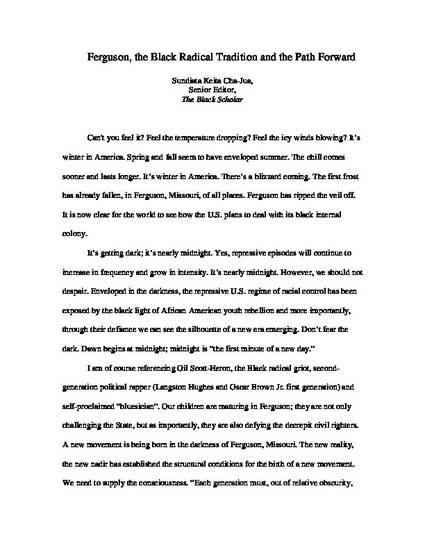 Presentation
Ferguson, the Black Radical Tradition and the Path Forward
The Black Scholar (2014)
Abstract
Can't you feel it? Feel the temperature dropping? Feel the icy winds blowing? It's winter in America. Spring and fall seem to have enveloped summer. The chill comes sooner and lasts longer. It's winter in America. There's a blizzard coming. The first frost has already fallen, in Ferguson, Missouri, of all places. Ferguson has ripped the veil off. It is now clear for the world to see how the U.S. plans to deal with its black internal colony.
It's getting dark; it's nearly midnight. Yes, repressive episodes will continue to increase in frequency and grow in intensity. It's nearly midnight. However, we should not despair. Enveloped in the darkness, the repressive U.S. regime of racial control has been exposed by the black light of African American youth rebellion and more importantly, through their defiance we can see the silhouette of a new era emerging. Don't fear the dark. Dawn begins at midnight; midnight is "the first minute of a new day."
Keywords
Ferguson,
Missouri; Police brutality,
Urban Rebellion,
Black Youth
Publication Date
Summer August 21, 2014
Citation Information
Sundiata Keita Cha-Jua. "Ferguson, the Black Radical Tradition and the Path Forward"
The Black Scholar
(2014)
Available at: http://works.bepress.com/sundiata_chajua/36/