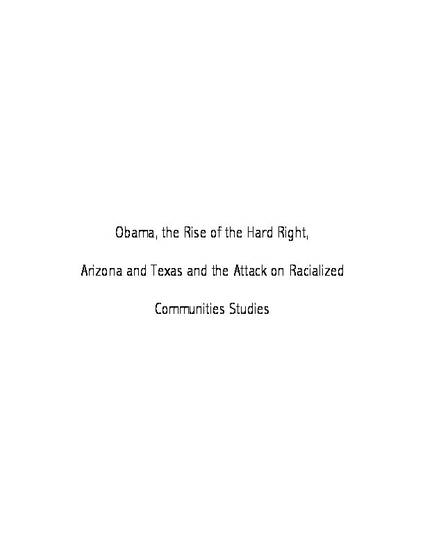 Article
Introduction to the Special Issue Defending Ethnic Studies in Arizona: Obama, the Rise of the Hard Right, Arizona and Texas and the Attack on Racialized Communities Studies
The Black Scholar (2010)
Abstract
Arizona's and Texas's recent anti-ethnic studies enactments have a long and sordid history; they represent the culmination of Eurocentric, nativist and racist initiatives begun decades ago, though their roots go back nearly two hundred years. Arizona House Bill 2281 represents rightwing responses to the current national socioeconomic crisis and the state's failing economy. According to Duane Campbell, a progressive political economist, "with little else to offer the unemployed, scapegoating immigrants has become a substitute in Arizona for having a real solution to solving the economic needs of its residents." Collectively, HB 2281 and the Texas State Board of Education revisions are also reactions to changing local demographics, surging Mexican American immigration, especially its potential transformation of the states' electoral politics, and President Barack Obama's 2008 electoral victory.
Keywords
Obama,
Arizona,
Texas,
Racialized Community Studies,
Ethnic Studies
Publication Date
Winter February 28, 2010
Citation Information
Sundiata Keita Cha-Jua. "Introduction to the Special Issue Defending Ethnic Studies in Arizona: Obama, the Rise of the Hard Right, Arizona and Texas and the Attack on Racialized Communities Studies"
The Black Scholar
Vol. Vol. 40 Iss. No. 4 (2010)
Available at: http://works.bepress.com/sundiata_chajua/20/