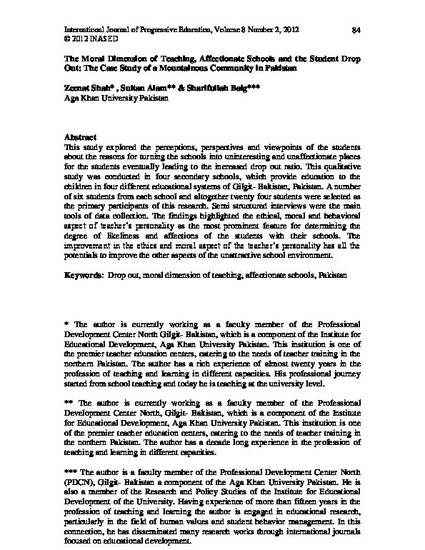 Article
The moral dimension of teaching, affectionate schools and the student drop out: The case study of a mountainous community in Pakistan
International Journal of Progressive Education
Publication Date
1-1-2012
Abstract
This study explored the perceptions, perspectives and viewpoints of the students about the reasons for turning the schools into uninteresting and unaffectionate places for the students eventually leading to the increased drop out ratio. This qualitative study was conducted in four secondary schools, which provide education to the children in four different educational systems of Gilgit- Baltistan, Pakistan. A number of six students from each school and altogether twenty four students were selected as the primary participants of this research. Semi structured interviews were the main tools of data collection. The findings highlighted the ethical, moral and behavioral aspect of teacher's personality as the most prominent feature for determining the degree of likeliness and affections of the students with their schools. The improvement in the ethics and moral aspect of the teacher's personality has all the potentials to improve the other aspects of the unattractive school environment.
Citation Information
Zeenat Shah, Sultan Alam and Sharifullah Baig. "The moral dimension of teaching, affectionate schools and the student drop out: The case study of a mountainous community in Pakistan"
International Journal of Progressive Education
Vol. 8 Iss. 2 (2012) p. 84 - 101
Available at: http://works.bepress.com/sultan_alam/10/