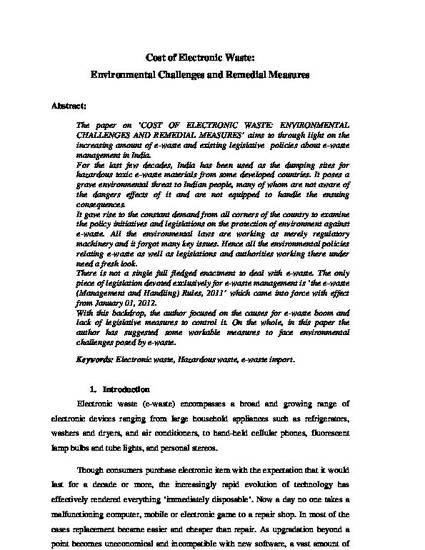 Article
Cost of Electronic Waste: Environmental Challenges and Remedial Measures
Conference Proceedings of National Conference on Law and Justice organised by AURO University, Surat during Sept. 14-15, 2013 (2013)
Abstract
The paper on 'COST OF ELECTRONIC WASTE: ENVIRONMENTAL CHALLENGES AND REMEDIAL MEASURES' aims to through light on the increasing amount of e-waste and existing legislative policies about e-waste management in India. For the last few decades, India has been used as the dumping sites for hazardous toxic e-waste materials from some developed countries. It poses a grave environmental threat to Indian people, many of whom are not aware of the dangers effects of it and are not equipped to handle the ensuing consequences. It gave rise to the constant demand from all corners of the country to examine the policy initiatives and legislations on the protection of environment against e-waste. All the environmental laws are working as merely regulatory machinery and it forgot many key issues. Hence all the environmental policies relating e-waste as well as legislations and authorities working there under need a fresh look. There is not a single full fledged enactment to deal with e-waste. The only piece of legislation devoted exclusively for e-waste management is 'the e-waste (Management and Handling) Rules, 2011' which came into force with effect from January 01, 2012. With this backdrop, the author focused on the causes for e-waste boom and lack of legislative measures to control it. On the whole, in this paper the author has suggested some workable measures to face environmental challenges posed by e-waste.
Keywords
Electronic waste,
Hazardous waste,
e-waste import,
Environment Protection
Publication Date
September, 2013
Citation Information
Sukdeo Ingale. "Cost of Electronic Waste: Environmental Challenges and Remedial Measures"
Conference Proceedings of National Conference on Law and Justice organised by AURO University, Surat during Sept. 14-15, 2013
(2013)
Available at: http://works.bepress.com/sukdeo_ingale/7/