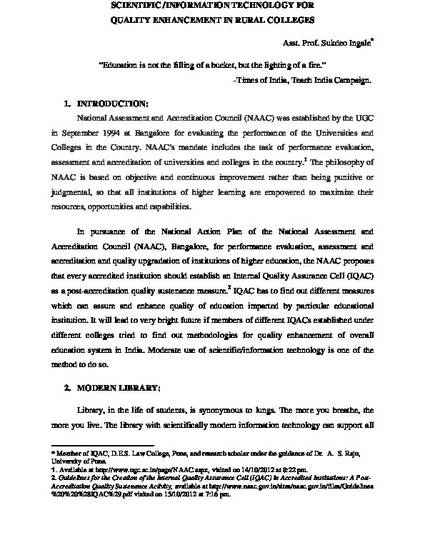 Article
Scientific /Information Technology For Quality Enhancement in Rural Colleges
Seminar Proceedings of State Level Seminar on Rural Colleges and Necessity of Quality Enhancement (2012)
Abstract
This paper is devoted to the quality enhancement of education imparted by colleges in rural parts of India. Traditionally educational institutes are one of the most trusted and respected organizations in society. It is because such institutions are directly involved in developing the future of the Nation. The rural colleges carry additional responsibilities. They needs not only to prepare their students for life in the local community; but also for the adjustment into more urban society, so that they are able to function effectively in both environments. In modern era, it plays vital role in the life of student of rural college when he goes to urban society for further education or job. Hence more focus on the quality enhancement of rural colleges is necessary. India has the second largest educational system in the world. Therefore quality assurance and enhancement is not an event! Specially quality enhancement in rural colleges is herculean task. It is a continuous process which needs restless efforts to achieve academic excellence. Against this backdrop, most of the institutes are giving their best. But still there is a long way to go ahead. This is possible by use of scientific/information technology. This paper is underlining the thought that moderate use of scientific/information technology will help to enhance quality of colleges in rural India.
Keywords
Rural Colleges,
Quality Enhancement of Rural Colleges,
Scientific Technology,
Information Technology,
Online Education organised by Shri Shivaji Law College,
Parbhani during November 2-3,
2012
Publication Date
November 3, 2012
Citation Information
Sukdeo Ingale. "Scientific /Information Technology For Quality Enhancement in Rural Colleges"
Seminar Proceedings of State Level Seminar on Rural Colleges and Necessity of Quality Enhancement
(2012)
Available at: http://works.bepress.com/sukdeo_ingale/6/