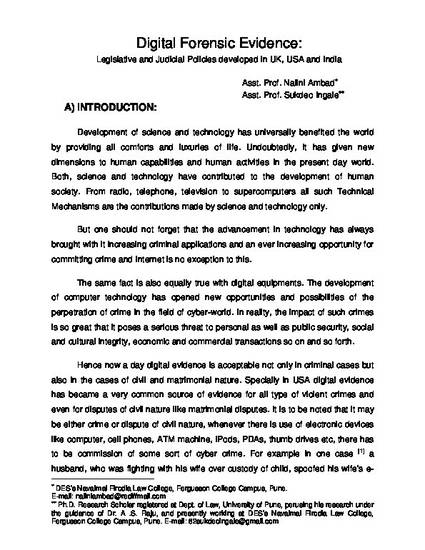 Article
Digital Forensic Evidence: Legislative and Judicial Policies Developed in Uk, USA and India
Conference Proceeding of National Conference on Preventive Measures to avoid the Cyber Crimes organised by P. G. Dept. of MCA, New Arts, Science and Commerce College, Ahmednagar during December 19-20, 2013 (2013)
Abstract
This paper speaks about the legislative and judicial policies developed in UK, USA and India about Digital Forensic Evidence in prosecuting criminals under Court of Law. As Digital Forensic Evidence is not subject to any omission and commission, and there is no possibility of turning hostile, it should be given utmost importance in prosecuting criminals. But as in comparison to other forensic sciences, the field of computer forensics/digital forensics is relatively very young, many people do not understand what the term computer forensics/ digital forensics means and what techniques are involved in it. In particular, there is a lack of clarity among law enforcement agencies regarding many issues like- scope and applicability of different Acts, nature and admissibility, precautions to be taken in identification and collection of digital forensic evidence. This paper is an attempt to make audience aware of legislative and judicial policies in UK, USA and India.
Keywords
Digital Forensic evidence,
Cyber Crimes,
electronic evidence
Citation Information
Nalini Ambad and Sukdeo Ingale. "Digital Forensic Evidence: Legislative and Judicial Policies Developed in Uk, USA and India"
Conference Proceeding of National Conference on Preventive Measures to avoid the Cyber Crimes organised by P. G. Dept. of MCA, New Arts, Science and Commerce College, Ahmednagar during December 19-20, 2013
(2013)
Available at: http://works.bepress.com/sukdeo_ingale/2/