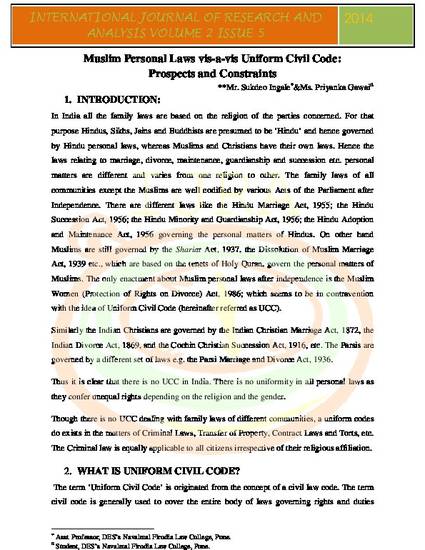 Article
Muslim Personal Laws vis-s-vis Uniform Civil Code: Prospects and Constraints
International Journal of Research and Analysis (2014)
Abstract
This paper addresses the tousle between Muslim personal laws and Uniform Civil Code. India is a multi-religious 'secular' country, where every religion is divided in different sects and denominations having their different (and sometime contradicting) customs and traditions. The personal laws based on such customs and traditions having 'utmost religious content' govern various matters including marriage, divorce, succession, inheritance, adoption, maintenance, guardianship, etc. This created difficulties in distribution of justice. To answer this issue, 'the idea of Uniform Civil Code' was first mooted in the Constituent Assembly in 1947. Uniform Civil Code, only three words have divided the nation into many groups; propagating different political, social and religious ideologies on the issues of personal laws. Among all the Directive Principles of State Policy, Article 44 of the Constitution of India directing the State to secure for its citizens a Uniform Civil Code has occupied a pivotal place of conflict between different ideologies and judicial activism. Against this backdrop, the author focused his study on Freedom of Religion, Human Rights and Muslim personal laws on (1) Marriage, (2) Divorce and Maintenance, (3) Inheritance and succession. This paper is an attempt to make audience aware of Constituent Assembly debate, judicial disquiet, political diversion and religious un-equanimity on the issues relating to Uniform Civil Code and the paper is concluded with a practically workable solution of 'Voluntary Uniform Civil Code'.
Keywords
Freedom of Religion,
Muslim Personal Laws,
Uniform Civil Code.
Citation Information
Sukdeo Ingale and Priyanka Gawai. "Muslim Personal Laws vis-s-vis Uniform Civil Code: Prospects and Constraints"
International Journal of Research and Analysis
Vol. 2 Iss. 5 (2014)
Available at: http://works.bepress.com/sukdeo_ingale/10/