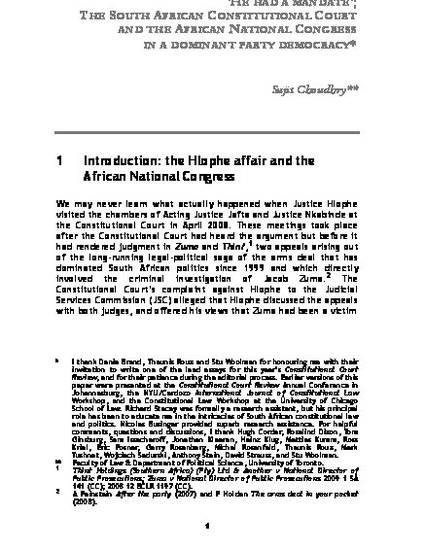 Article
He Had a Mandate': The South African Constitutional Court and the African National Congress in a Dominant Party Democracy
Constitutional Court Review (2009)
Abstract
A dominant party democracy is a democracy whose constitutional design is liberal democratic, which provides an entrenched framework for multiparty democracy through universal suffrage and regular elections, and which contemplates political competition and the alternation of political parties in power, but in which one party enjoys electoral dominance and continues to win free and fair elections that are not tainted by force or fraud. South Africa is emerging as a leading example of a dominant party democracy, with the ANC having won every national election since 1993, now in power in eight of nine provinces, and with no sign of a credible electoral competitor on the horizon. The question I explore in this paper is how the Constitutional Court of South Africa should respond to the dominant status of the ANC. I begin by setting a characteristic set of pathologies for dominant party democracies: the use of public resources by dominant political parties as political to distort electoral competition; deliberate attempts by dominant parties to change the rules of electoral competition to fragment opposition parties and diminish their ability to offer a credible alternative; the erosion of federalism to undermine the ability of opposition parties to form governments at the sub-national level and deploy the political resources provided by incumbency to enhance their competitiveness at the national level; the subordination of the parliamentary wing of a dominant political party to its non-parliamentary wing, thereby shifting politics into the party and out of the legislature, diminishing the central role of the legislature in national political life. I then turn to the case-law of the Constitutional Court, and demonstrate that the various pathologies of dominant party democracies are at play in a scattered and otherwise disconnected set of cases across a range of substantive areas. A robust conception of dominant party democracy can assist the Constitutional Court. On the occasions when the dominant status of the ANC has been raised before the Constitutional Court, it quickly dismissed the relevance of ANC domination to the constitutional challenge. This reflects the Court's inadequate understanding of the concept of a dominant party democracy, its pathologies, the pressure it puts on what it otherwise a formally liberal democratic system because of the lack of alternation of power between political parties, and how this pressure is generating constitutional challenges. If the current Constitutional Court takes the notion of ANC domination seriously, this yields a set of constitutional doctrines, some of which emerge from a recasting of the existing jurisprudence. I term these anti-domination, anti-capture, non-usurpation, anti-seizure and anti-centralization.
Keywords
South Africa,
Constitutional Court
Citation Information
Sujit Choudhry. "He Had a Mandate': The South African Constitutional Court and the African National Congress in a Dominant Party Democracy"
Constitutional Court Review
Vol. 2 (2009) p. 1 - 86
Available at: http://works.bepress.com/sujit_choudhry/37/