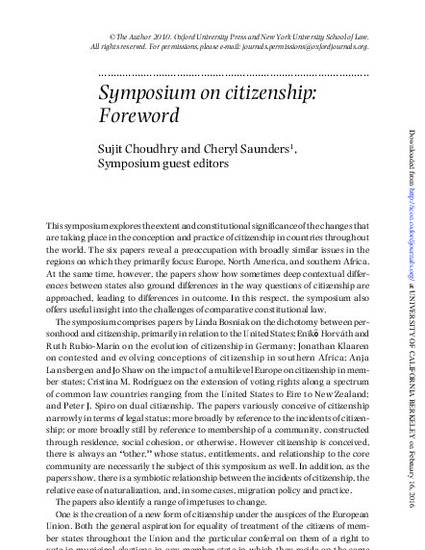 Article
Symposium on Citizenship: Foreword
International Journal of Constitutional Law (2010)
Abstract
This symposium explores the extent and constitutional significance of the changes that are taking place in the conception and practice of citizenship in countries throughout the world. The six papers reveal a preoccupation with broadly similar issues in the regions on which they primarily focus: Europe, North America, and southern Africa. At the same time, however, the papers show how sometimes deep contextual differences between states also ground differences in the way questions of citizenship are approached, leading to differences in outcome. In this respect, the symposium also offers useful insight into the challenges of comparative constitutional law.
Citation Information
Sujit Choudhry and Cheryl Saunders. "Symposium on Citizenship: Foreword"
International Journal of Constitutional Law
Vol. 8 (2010) p. 6 - 8
Available at: http://works.bepress.com/sujit_choudhry/35/