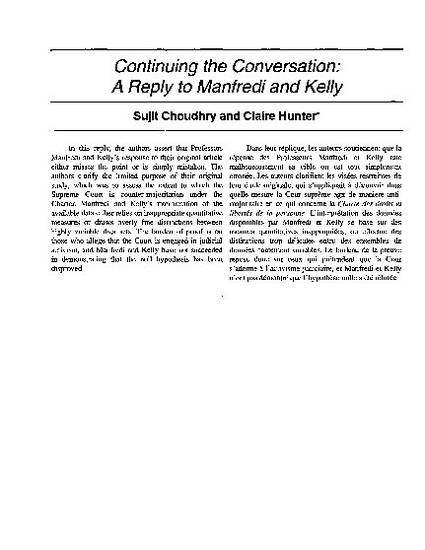 Article
Continuing the Conversation: A Reply to Manfredi and Kelly
McGill Law Journal
Publication Date
1-1-2004
Abstract
In this reply, the authors assert that Professors Manfredi and Kelly's response to their original article either misses the point or is simply mistaken. The authors clarify the limited purpose of their original study, which was to assess the extent to which the Supreme Court is counter-majoritarian under the Charter. Manfredi and Kelly's interpretation of the available data either relies on inappropriate quantitative measures or draws overly fine distinctions between highly variable data sets. The burden of proof is on those who allege that the Court is engaged in judicial activism, and Manfredi and Kelly have not succeeded in demonstrating that the null hypothesis has been disproved.
Citation Information
Sujit Choudhry and Claire Hunter. "Continuing the Conversation: A Reply to Manfredi and Kelly"
McGill Law Journal
Vol. 49 (2004) p. 765
Available at: http://works.bepress.com/sujit_choudhry/16/