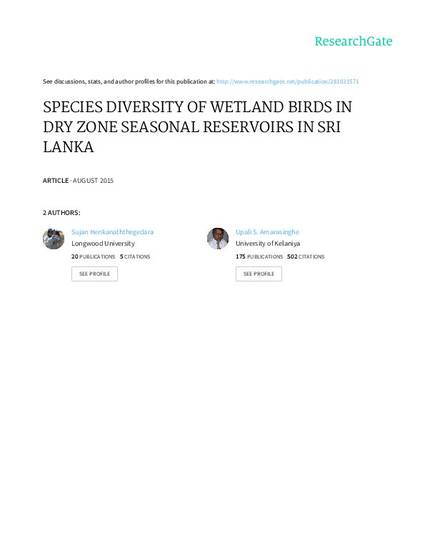 Article
SPECIES DIVERSITY OF WETLAND BIRDS IN DRY ZONE SEASONAL RESERVOIRS IN SRI LANKA
Taprobanic (2015)
Abstract
The quantification of species diversity is essential in several aspects of ecology, including
conservation biology, and as an indicator of the well-being of ecological systems. However, species
diversity of the wetland birds in the seasonal reservoirs in the dry zone of Sri Lanka has received very
little attention. In the present study, an attempt was made to determine the species diversity of wetland
birds of 20 seasonal reservoirs in Anuradhapura and Monaragala Districts during both migratory and
non-migratory seasons. A total of 46 species of aquatic birds belonging to 17 families (represent 7
orders) were recorded during the present study in selected seasonal reservoirs in the two districts.
Overall, both bird species richness and abundance were higher in Anuradhapura district compared to
Monaragala District. However, there were more bird species in both districts during migratory seasons.
We have detected significant seasonal differences in species diversity estimated by both the Shannon-
Wiener Index (F=3.926; P <0.1) and Simpson's Index (F=3.718; P <0.1). This suggests that there was
a significantly higher diversity of wetland birds during the migratory season. Species-area
relationships suggested that the species richness of wetland birds associated with seasonal reservoirs
would increase as the reservoir size increases. However, these relationships represented weak
correlations (R2 range = 0.331–0.645). Overall our study indicates that seasonal reservoirs in Sri Lanka
support a diverse community of wetland birds and provide a strong example for a case of enhancement
of biological diversity through human activities by creating artificial habitats.
Keywords
Anuradhapura,
aquatic birds,
avifaunal diversity,
Monaragala,
species-area relationship
Publication Date
June 8, 2015
Citation Information
Sujan Henkanaththegedara and Upali S. Amarasinghe. "SPECIES DIVERSITY OF WETLAND BIRDS IN DRY ZONE SEASONAL RESERVOIRS IN SRI LANKA"
Taprobanic
Vol. 07 Iss. 04 (2015) p. 235 - 243 ISSN: 1800–427X
Available at: http://works.bepress.com/sujan-henkanaththegedara/5/