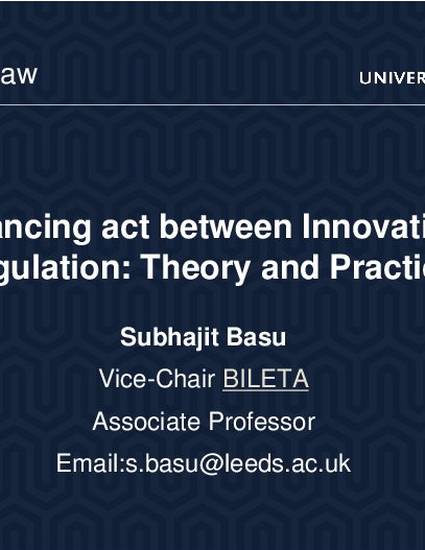 Presentation
The balancing act between Innovation and Regulation: Theory and Practice
NFAIS 59th Annual Conference (2017)
Abstract
The relationships between innovation and the law are dynamic and arguably changing faster now than ever before.  In this presentation, I will explore the interactions between technology and the law. As the landscape among stakeholders continues to evolve, sharing data by way of interoperable systems seem to be cultivating at rapid speed. However, there are critical issues such as privacy and responsible data sharing that needs to be unearthed as part of the landscape, the past few years have revealed too many data exposes and information system vulnerabilities.
Ironically the laws that are in place to ensure privacy, security and trust have had a complicated evolutionary path. In the context of healthcare data, I will discuss the primarily the legal issues but also ethical implications of building and sharing data repositories, issues related to responsible data exchange and appropriate data usage. It is essential that any regulatory framework while ensures individual's right to privacy and but also does not impede emerging scientific discoveries with commercial gains where systems will exchange information.  
Keywords
Data,
Privacy,
Healthcare data
Publication Date
Winter February 28, 2017
Location
Hilton Alexandria (VA) Old Town
Citation Information
Subhajit Basu. "The balancing act between Innovation and Regulation: Theory and Practice"
NFAIS 59th Annual Conference
(2017)
Available at: http://works.bepress.com/subhajitbasu/91/