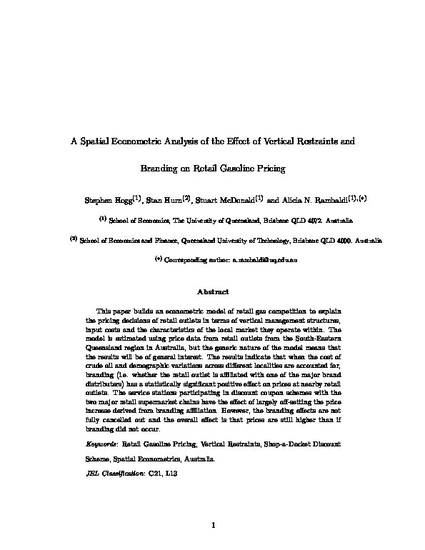 Unpublished Paper
A Spatial Econometric Analysis of the Effect of Vertical Restraints and Branding on Retail Gasoline Pricing
National Centre for Econometric Research Working Paper Series 86 (2012)
Abstract
This paper builds an econometric model of retail gas competition to explain the pricing decisions of retail outlets in terms of vertical management structures, input costs and the characteristics of the local market they operate within. The model is estimated using price data from retail outlets from the South-Eastern Queensland region in Australia, but the generic nature of the model means that the results will be of general interest. The results indicate that when the cost of crude oil and demographic variations across different localities are accounted for, branding (i.e. whether the retail outlet is affiliated with one of the major brand distributers) has a statistically significant positive effect on prices at nearby retail outlets. The service stations participating in discount coupon schemes with the two major retail supermarket chains have the effect of largely off-setting the price increase derived from branding affiliation. However, the branding effects are not fully cancelled out and the overall effect is that prices are still higher than if branding did not occur.
Keywords
Retail Gasoline Pricing,
Vertical Restraints,
Tying,
Spatial Econometrics
Citation Information
Stuart McDonald. "A Spatial Econometric Analysis of the Effect of Vertical Restraints and Branding on Retail Gasoline Pricing"
National Centre for Econometric Research Working Paper Series 86
(2012)
Available at: http://works.bepress.com/stuart_mcdonald/1/