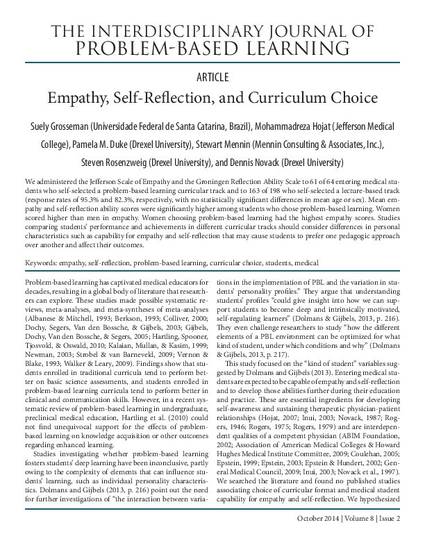 Article
Empathy, Self-Reflection, and Curriculum Choice
Interdisciplinary Journal of Problem-Based Learning
Abstract
We administered the Jefferson Scale of Empathy and the Groningen Reflection Ability Scale to 61 of 64 entering medical students who self-selected a problem-based learning curricular track and to 163 of 198 who self-selected a lecture-based track (response rates of 95.3% and 82.3%, respectively, with no statistically significant differences in mean age or sex). Mean empathy and self-reflection ability scores were significantly higher among students who chose problem-based learning. Women scored higher than men in empathy. Women choosing problem-based learning had the highest empathy scores. Studies comparing students' performance and achievements in different curricular tracks should consider differences in personal characteristics such as capability for empathy and self-reflection that may cause students to prefer one pedagogic approach over another and affect their outcomes.
Citation Information
Suely Grosseman, Mohammadreza Hojat, Pamela M Duke, Stewart Mennin, et al.. "Empathy, Self-Reflection, and Curriculum Choice"
Available at: http://works.bepress.com/stewart_mennin/1/