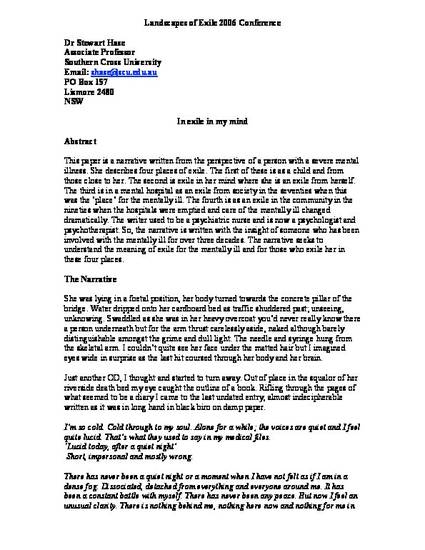 Presentation
In exile in my mind
Landscapes of Exile Conference
Document Type
Presentation
Publication Date
1-1-2006
Abstract
This paper is a narrative written from the perspective of a person with a severe mental illness. She describes four places of exile. The first of these is as a child and from those close to her. The second is exile in her mind where she is an exile from herself. The third is in a mental hospital as an exile from society in the seventies when this was the 'place' for the mentally ill. The fourth is as an exile in the community in the nineties when the hospitals were emptied and care of the mentally ill changed dramatically. The writer used to be a psychiatric nurse and is now a psychologist and psychotherapist. So, the narrative is written with the insight of someone who has been involved with the mentally ill for over three decades. The narrative seeks to understand the meaning of exile for the mentally ill and for those who exile her in these four places.
Citation Information
Hase, S 1996, 'In exile in my mind', paper presented to Landscapes of Exile Conference, Byron Bay, NSW, 26-28 July.