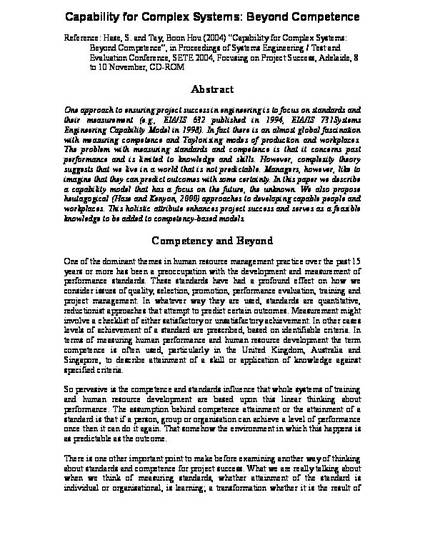 Presentation
Capability for complex systems: beyond competence
Proceedings of Systems Engineering / Test and Evaluation Conference, SETE 2004, Focusing on project success
Document Type
Conference publication
Publication Date
1-1-2004
Abstract
One approach to ensuring project success in engineering is to focus on standards and their measurement (e.g., EIA/IS 632 published in 1994, EIA/IS 731Systems Engineering Capability Model in 1998). In fact there is an almost global fascination with measuring competence and Taylorising modes of production and workplaces. The problem with measuring standards and competence is that it concerns past performance and is limited to knowledge and skills. However, complexity theory suggests that we live in a world that is not predictable. Managers, however, like to imagine that they can predict outcomes with some certainty. In this paper we describe a capability model that has a focus on the future, the unknown. We also propose heutagogical (Hase and Kenyon, 2000) approaches to developing capable people and workplaces. This holistic attribute enhances project success and serves as a feasible knowledge to be added to competency-based models.
Citation Information
Hase, S & Tay, BH 2004, 'Capability for complex systems: beyond competence', in D Cropley, P Campbell, & P Campbell (eds), Proceedings of Systems Engineering / Test and Evaluation Conference, SETE 2004, Focusing on project success, Adelaide, SA, 8-10 November, ICE Australia, Sydney, NSW.