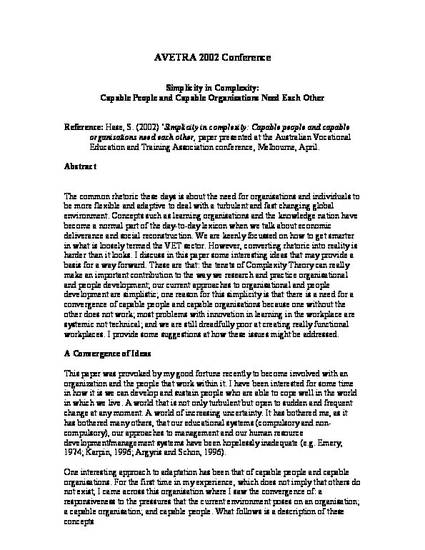 Presentation
Simplicity in complexity: capable people and capable organisations need each other
Australian Vocational Education and Training Association Conference
Document Type
Presentation
Publication Date
1-1-2002
Abstract
The common rhetoric these days is about the need for organisations and individuals to be more flexible and adaptive to deal with a turbulent and fast changing global environment. Concepts such as learning organisations and the knowledge nation have become a normal part of the day-to-day lexicon when we talk about economic deliverance and social reconstruction. We are keenly focussed on how to get smarter in what is loosely termed the VET sector. However, converting rhetoric into reality is harder than it looks. I discuss in this paper some interesting ideas that may provide a basis for a way forward. These are that: the tenets of Complexity Theory can really make an important contribution to the way we research and practice organisational and people development; our current approaches to organisational and people development are simplistic; one reason for this simplicity is that there is a need for a convergence of capable people and capable organisations because one without the other does not work; most problems with innovation in learning in the workplace are systemic not technical; and we are still dreadfully poor at creating really functional workplaces. I provide some suggestions at how these issues might be addressed.
Citation Information
Hase, S 2002, 'Simplicity in complexity: capable people and capable organisations need each other', paper presented to Australian Vocational Education and Training Association Conference, Melbourne, Vic., April.