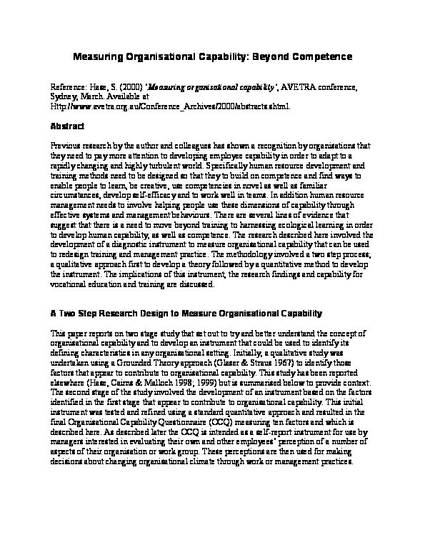 Presentation
Measuring organisational capability: beyond competence
Proceedings of Future research, research futures: Australian Vocational Education and Training Research Association (AVETRA) Conference
Document Type
Conference publication
Publication Date
1-1-2000
Abstract
Previous research by the author and colleagues has shown a recognition by organisations that they need to pay more attention to developing employee capability in order to adapt to a rapidly changing and highly turbulent world. Specifically human resource development and training methods need to be designed so that they to build on competence and find ways to enable people to learn, be creative, use competencies in novel as well as familiar circumstances, develop self-efficacy and to work well in teams. In addition human resource management needs to involve helping people use these dimensions of capability through effective systems and management behaviours. There are several lines of evidence that suggest that there is a need to move beyond training to harnessing ecological learning in order to develop human capability, as well as competence. The research described here involved the development of a diagnostic instrument to measure organisational capability that can be used to redesign training and management practice. The methodology involved a two step process; a qualitative approach first to develop a theory followed by a quantitative method to develop the instrument. The implications of this instrument, the research findings and capability for vocational education and training are discussed.
Citation Information
Hase, S 2000, 'Measuring organisational capability: beyond competence', Proceedings of Future research, research futures: Australian Vocational Education and Training Research Association (AVETRA) Conference, Canberra, ACT, 23-24 March, AVETRA, Crows Nest, NSW.