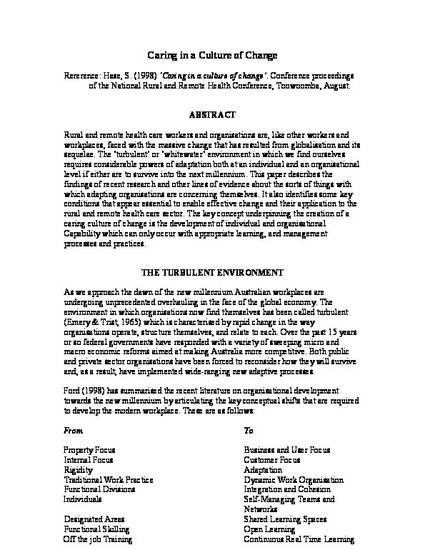 Presentation
Caring in a culture of change
Proceedings of Cultures in caring: 4th Biennial Australian Rural and Remote Health Scientific Conference
Document Type
Presentation
Publication Date
1-1-1998
Abstract
Rural and remote health care workers and organisations are, like other workers and workplaces, faced with the massive change that has resulted from globalisation and its sequelae. The 'turbulent' or 'whitewater' environment in which we find ourselves requires considerable powers of adaptation both at an individual and an organisational level if either are to survive into the next millennium. This paper describes the findings of recent research and other lines of evidence about the sorts of things with which adapting organisations are concerning themselves. It also identifies some key conditions that appear essential to enable effective change and their application to the rural and remote health care sector. The key concept underpinning the creation of a caring culture of change is the development of individual and organisational Capability which can only occur with appropriate learning, and management processes and practices.
Citation Information
Hase, S 1998, 'Caring in a culture of change', paper presented to Cultures in caring: 4th Biennial Australian Rural and Remote Health Scientific Conference, Toowoomba, Qld., 27-28 August.