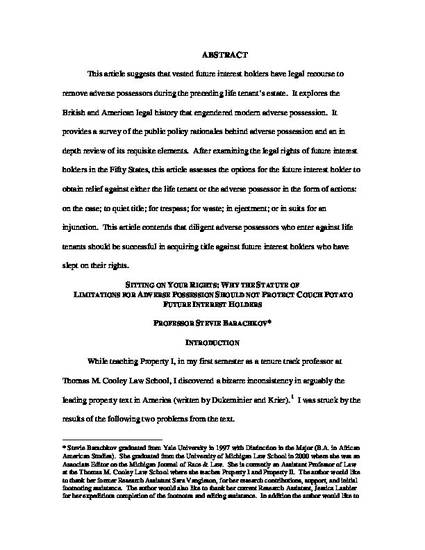 Unpublished Paper
SITTING ON YOUR RIGHTS: WHY THE STATUTE OF LIMITATIONS FOR ADVERSE POSSESSION SHOULD NOT PROTECT COUCH POTATO FUTURE INTEREST HOLDERS
ExpressO (2010)
Abstract
This article suggests that vested future interest holders have legal recourse to remove adverse possessors during the preceding life tenant's estate. It explores the British and American legal history that engendered modern adverse possession. It provides a survey of the public policy rationales behind adverse possession and an in depth review of its requisite elements. After examining the legal rights of future interest holders in the Fifty States, this article assesses the options for the future interest holder to obtain relief against either the life tenant or the adverse possessor in the form of actions: on the case; to quiet title; for trespass; for waste; in ejectment; or in suits for an injunction. This article contends that diligent adverse possessors who enter against life tenants should be successful in acquiring title against future interest holders who have slept on their rights.
Keywords
adverse possession,
future interest holders,
remaindermen,
statute of limitations
Publication Date
April 21, 2010
Citation Information
Stevie J Barachkov. "SITTING ON YOUR RIGHTS: WHY THE STATUTE OF LIMITATIONS FOR ADVERSE POSSESSION SHOULD NOT PROTECT COUCH POTATO FUTURE INTEREST HOLDERS"
ExpressO
(2010)
Available at: http://works.bepress.com/stevie_barachkov/1/