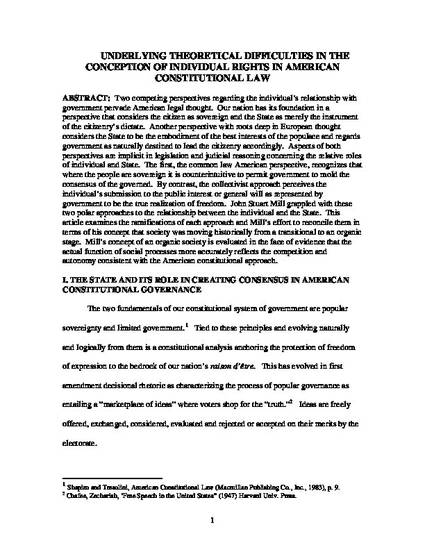 Unpublished Paper
UNDERLYING THEORETICAL DIFFICULTIES IN THE CONCEPTION OF INDIVIDUAL RIGHTS IN AMERICAN CONSTITUTIONAL LAW
ExpressO (2010)
Abstract
ABSTRACT: Two competing perspectives regarding the individual's relationship with government pervade American legal thought. Our nation has its foundation in a perspective that considers the citizen as sovereign and the State as merely the instrument of the citizenry's dictate. Another perspective with roots deep in European thought considers the State to be the embodiment of the best interests of the populace and regards government as naturally destined to lead the citizenry accordingly. Aspects of both perspectives are implicit in legislation and judicial reasoning concerning the relative roles of individual and State. The first, the common law American perspective, recognizes that where the people are sovereign it is counterintuitive to permit government to mold the consensus of the governed. By contrast, the collectivist approach perceives the individual's submission to the public interest or general will as represented by government to be the true realization of freedom. John Stuart Mill grappled with these two polar approaches to the relationship between the individual and the State. This article examines the ramifications of each approach and Mill's effort to reconcile them in terms of his concept that society was moving historically from a transitional to an organic stage. Mill's concept of an organic society is evaluated in the face of evidence that the actual function of social processes more accurately reflects the competition and autonomy consistent with the American constitutional approach.
Publication Date
February 18, 2010
Citation Information
Steven J. Andre. "UNDERLYING THEORETICAL DIFFICULTIES IN THE CONCEPTION OF INDIVIDUAL RIGHTS IN AMERICAN CONSTITUTIONAL LAW"
ExpressO
(2010)
Available at: http://works.bepress.com/stevenjandre/8/