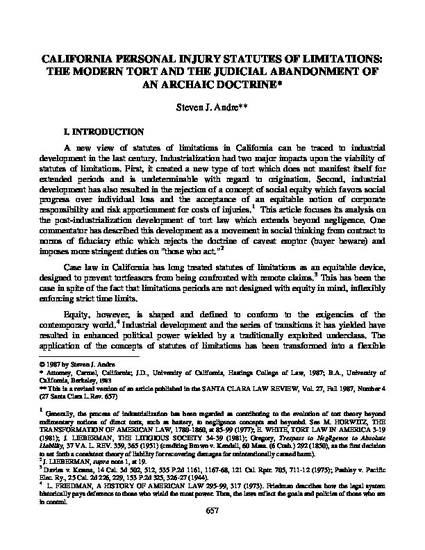 Article
CALIFORNIA PERSONAL INJURY STATUTES OF LIMITATIONS: The Modern Tort and the Judicial Abandonment of an Archaic Doctrine
Santa Clara Law Review (1987)
Abstract
Analysis of the judicial erosion of legislative efforts to impose timelines on plaintiffs seeking relief for injuries in light of the development of the modern tort in California.
Keywords
27 Santa Clara L.Rev. 657,
personal injury statutes of limitations "delayed discovery""equitable tolling""equitable estoppel"
Publication Date
Fall 1987
Citation Information
Steven J. Andre. "CALIFORNIA PERSONAL INJURY STATUTES OF LIMITATIONS: The Modern Tort and the Judicial Abandonment of an Archaic Doctrine"
Santa Clara Law Review
Vol. 27 Iss. 4 (1987)
Available at: http://works.bepress.com/stevenjandre/4/