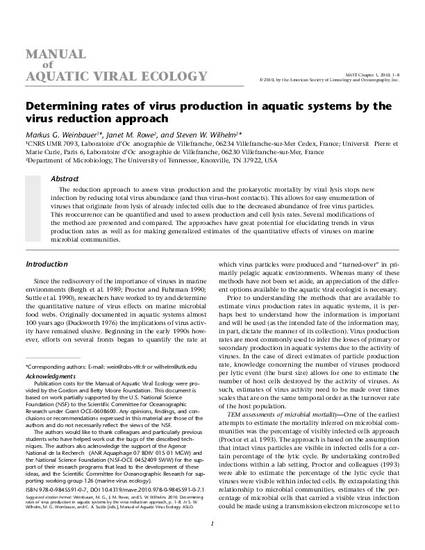 Contribution to Book
Determining rates of virus production in aquatic systems by the virus reduction approach,
Manual of Aquatic Viral Ecology (2010)
Abstract
The reduction approach to assess virus production and the prokaryotic mortality by viral lysis stops new infection by reducing total virus abundance (and thus virus–host contacts). This allows for easy enumeration of viruses that originate from lysis of already infected cells due to the decreased abundance of free virus particles. This reoccurrence can be quantified and used to assess production and cell lysis rates. Several modifications of the method are presented and compared. The approaches have great potential for elucidating trends in virus production rates as well as for making generalized estimates of the quantitative effects of viruses on marine microbial communities.
Editor
S.W. Wilhelm, M.G. Weinbauer, C.A. Suttle
Publisher
American Society of Limnology and Oceanography
Citation Information
M.G. Weinbauer, J.M. Rowe and Steven Wilhelm. "Determining rates of virus production in aquatic systems by the virus reduction approach," Waco, TX
Manual of Aquatic Viral Ecology
(2010)
Available at: http://works.bepress.com/steven_wilhelm/17/