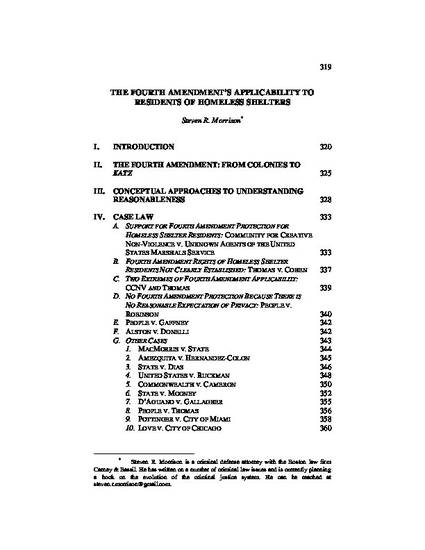 Article
The Fourth Amendment's Applicability to Residents of Homeless Shelters
Hamline Law review (2009)
Abstract
The extent to which residents of homeless shelters are protected by the Fourth Amendment in these shelters is an unsettled question of law because virtually no case law exists to establish or define this protection. Shelters are homes to homeless persons, and homeless persons are often quite vulnerable and in need of the security that well-defined Fourth Amendment jurisprudence provides. This article, therefore, examines the extent to which homeless persons should enjoy Fourth Amendment protections in homeless shelters. It applies settled Fourth Amendment law, conceptual approaches to the Fourth Amendment, and judicial opinions dealing with the Fourth Amendment and homeless persons residing in shelters and other places. It argues that in home-like shelters, residents ought to be accorded the Fourth Amendment protections that people receive in their own private homes. In other, less home-like shelters, it argues that a version of Terry v. Ohio should apply, allowing warrantless and unconsented-to searches only where threats of physical violence arise. This would protect shelter residents' privacy where there is no threat of physical violence while satisfying the governmental interest in public safety.
Citation Information
Hamline Law Review, forthcoming (2009).