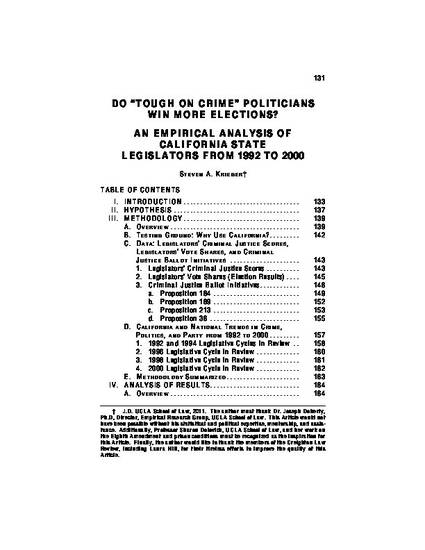 Article
Do "Tough on Crime" Politicians Win More Elections? An Empirical Analysis of California State Legislators from 1992 to 2000
Creighton Law Review (2011)
Abstract
Do "tough on crime" politicians win more elections? Conventional wisdom suggests that they do. After all, who was the last public official to win an election based on a "soft on crime" platform? Correspondingly, this unjustified and widespread belief among legislators (and their strategists) makes it extremely difficult for progressive criminal justice bills to become law. There is no empirical literature, however, to support or deny this conventional political wisdom.
A regression analysis was used to answer (1) whether legislators' election results were impacted by their voting records (based on an assigned crime score) or constituent support for a ballot initiative; and (2) whether legislators adjusted future votes (and corresponding crime scores) based on election results or constituent support for crime-related propositions. Although conventional wisdom suggests that "tough on crime" politicians win more elections, I found no evidence to support this assumption in four California state elections from 1992 to 2000, a period of time when crime was an important issue in California and nationally. In addition, I found no evidence that election results influenced legislators' future positions on criminal justice issues. Therefore, legislators (especially in California) who currently support criminal justice bills should feel comfortable continuing to do so, as it did not hamper legislators in California from 1992 to 2000. Additionally, legislators (especially in California) who would like to support more criminal justice bills but fear negative consequences on election night, should feel comfortable increasing their support for these bills.
Citation Information
Steven A. Krieger.
Do "Tough on Crime" Politicians Win More Elections? An Empirical Analysis of California State Legislators from 1992 to 2000
, 45
Creighton Law Review
131 (2011).