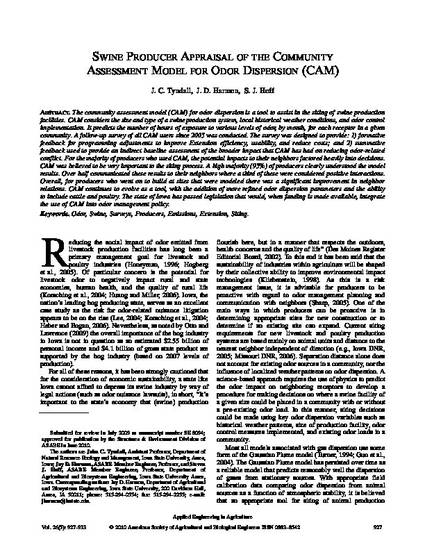 Article
Swine Producer Appraisal of the Community Assessment Model for Odor Dispersion (CAM)
Applied Engineering in Agriculture
Publication Version
Published Version
Publication Date
1-1-2010
Abstract
The community assessment model (CAM) for odor dispersion is a tool to assist in the siting of swine production facilities. CAM considers the size and type of a swine production system, local historical weather conditions, and odor control implementation. It predicts the number of hours of exposure to various levels of odor, by month, for each receptor in a given community. A follow-up survey of all CAM users since 2005 was conducted. The survey was designed to provide: 1) formative feedback for programming adjustments to improve Extension efficiency, usability, and reduce costs; and 2) summative feedback used to provide an indirect baseline assessment of the broader impact that CAM has had on reducing odor-related conflict. For the majority of producers who used CAM, the potential impacts to their neighbors factored heavily into decisions. CAM was believed to be very important to the siting process. A high majority (95%) of producers clearly understood the model results. Over half communicated these results to their neighbors where a third of these were considered positive interactions. Overall, for producers who went on to build at sites that were modeled there was a significant improvement in neighbor relations. CAM continues to evolve as a tool, with the addition of more refined odor dispersion parameters and the ability to include cattle and poultry. The state of Iowa has passed legislation that would, when funding is made available, integrate the use of CAM into odor management policy.
Copyright Owner
American Society of Agricultural and Biological Engineers
File Format
application/pdf
Citation Information
John C. Tyndall, Jay D. Harmon and Steven J. Hoff. "Swine Producer Appraisal of the Community Assessment Model for Odor Dispersion (CAM)"
Applied Engineering in Agriculture
Vol. 26 Iss. 5 (2010) p. 927 - 933
Available at: http://works.bepress.com/steven_hoff/55/