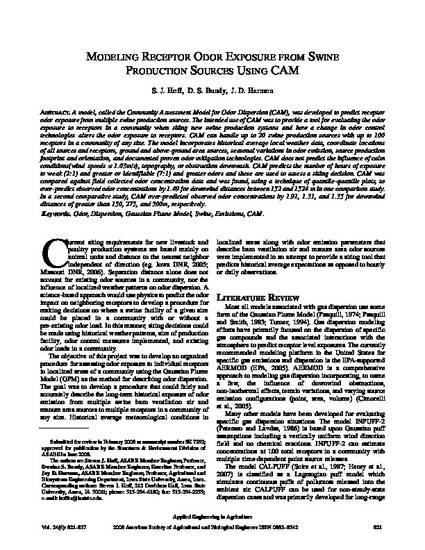 Article
Modeling Receptor Odor Exposure from Swine Production Sources Using CAM
Applied Engineering in Agriculture
Publication Version
Published Version
Publication Date
1-1-2008
Abstract
A model, called the Community Assessment Model for Odor Dispersion (CAM), was developed to predict receptor odor exposure from multiple swine production sources. The intended use of CAM was to provide a tool for evaluating the odor exposure to receptors in a community when siting new swine production systems and how a change in odor control technologies alters the odor exposure to receptors. CAM can handle up to 20 swine production sources with up to 100 receptors in a community of any size. The model incorporates historical average local weather data, coordinate locations of all sources and receptors, ground and above-ground area sources, seasonal variations in odor emission, source production footprint and orientation, and documented proven odor mitigation technologies. CAM does not predict the influence of calm conditions(wind speeds = 1.03m/s), topography, or obstruction downwash. CAM predicts the number of hours of exposure to weak (2:1) and greater or identifiable (7:1) and greater odors and these are used to assess a siting decision. CAM was compared against field collected odor concentration data and was found, using a technique of quantile-quantile plots, to over-predict observed odor concentrations by 1.49 for downwind distances between 152 and 1524 m in one comparison study. In a second comparative study, CAM over-predicted observed odor concentrations by 1.91, 1.31, and 1.35 for downwind distances of greater than 150, 275, and 300m, respectively.
Copyright Owner
American Society of Agricultural and Biological Engineers
File Format
application/pdf
Citation Information
Steven J. Hoff, Dwaine S. Bundy and Jay D. Harmon. "Modeling Receptor Odor Exposure from Swine Production Sources Using CAM"
Applied Engineering in Agriculture
Vol. 24 Iss. 6 (2008) p. 821 - 837
Available at: http://works.bepress.com/steven_hoff/49/