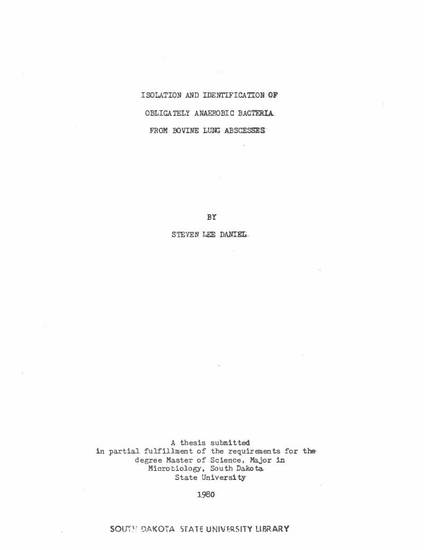 Thesis
Isolation and Identification of Obligately Anaerobic Bacteria from Bovine Lung Abscesses
(1980)
Abstract
For many years, the role of anaerobic bacteria in human disease
was considered important only in such clostridial diseases as gas gangrene,
botulism and tetanus. In the last 10 years, however, the development
of new methods to isolate and identify anaerobic bacteria has established
the pathogenic role of non-sporeforming anaerobic bacteria in a
wide variety of clinical infections in humans. Bacteroides fragilis is
now known to account for approximately one-fourth of all anaerobic
bacteria isolated from human clinical specimens.
Keywords
anaerobic bacteria,
bovine
Field of study
Microbiology
Citation Information
Steven L. Daniel. "Isolation and Identification of Obligately Anaerobic Bacteria from Bovine Lung Abscesses" (1980)
Available at: http://works.bepress.com/steven_daniel/15/
Creative Commons license
This work is licensed under a Creative Commons CC_BY-NC-ND International License.