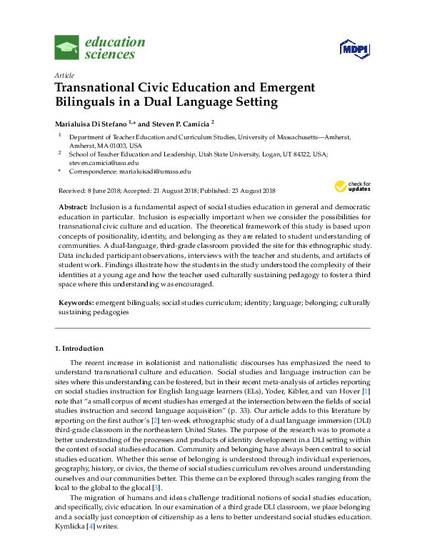 Article
Transnational Civic Education and Emergent Bilinguals in a Dual Language Setting
Education Sciences
Publication Date
8-23-2018
Creative Commons License
Creative Commons Attribution 4.0
Abstract
Inclusion is a fundamental aspect of social studies education in general and democratic education in particular. Inclusion is especially important when we consider the possibilities for transnational civic culture and education. The theoretical framework of this study is based upon concepts of positionality, identity, and belonging as they are related to student understanding of communities. A dual-language, third-grade classroom provided the site for this ethnographic study. Data included participant observations, interviews with the teacher and students, and artifacts of student work. Findings illustrate how the students in the study understood the complexity of their identities at a young age and how the teacher used culturally sustaining pedagogy to foster a third space where this understanding was encouraged.
Citation Information
Di Stefano, M., & Camicia, S. P. (2018). Transnational civic education and emergent bilinguals in a dual language setting. Education Sciences, 8(3), 1-22.