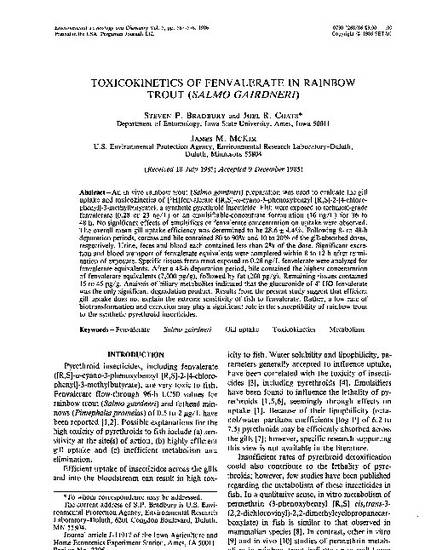 Article
Toxicokinetics of Fenvalerate in Rainbow Trout (Salmo Gairdneri)
Environmental Toxicology and Chemistry
Publication Version
Published Version
Publication Date
1-1-1986
Abstract
An in vivo rainbow trout (Salmo gairdneri) preparation was used to evaluate the gill uptake and toxicokinetics of [3H]fenvalerate ([R,S]-α-cyano-3-phenoxybenzyl [R,S]-2-[4-chloro-phenyl]-3-methylbutyrate), a synthetic pyrethroid insecticide. Fish were exposed to technical-grade fenvalerate (0.28 or 23 ng/L) or an emulsifiable-concentrate formulation (16 ng/L) for 36 to 48 h. No significant effects of emulsifiers or fenvalerate concentration on uptake were observed. The overall mean gill uptake efficiency was determined to be 28.6 + 4.4%. Following 8- to 48-h depuration periods, carcass and bile contained 80 to 90% and 10 to 20% of the gill-absorbed doses, respectively. Urine, feces and blood each contained less than 2% of the dose. Significant excretion and blood transport of fenvalerate equivalents were completed within 8 to 12 h after termination of exposure. Specific tissues from trout exposed to 0.28 ng/L fenvalerate were analyzed for fenvalerate equivalents. After a 48-h depuration period, bile contained the highest concentration of fenvalerate equivalents (7,000 pg/g), followed by fat (200 pg/g). Remaining tissues contained 15 to 45 pg/g. Analysis of biliary metabolites indicated that the glucuronide of 4′-HO-fenvalerate was the only significant degradation product. Results from the present study suggest that efficient gill uptake does not explain the extreme sensitivity of fish to fenvalerate. Rather, a low rate of biotransformation and excretion may play a significant role in the susceptibility of rainbow trout to the synthetic pyrethroid insecticides.
Rights
Works produced by employees of the U.S. Government as part of their official duties are not copyrighted within the U.S. The content of this document is not copyrighted.
File Format
application/pdf
Citation Information
Steven P. Bradbury, Joel R. Coats and James M. McKim. "Toxicokinetics of Fenvalerate in Rainbow Trout (Salmo Gairdneri)"
Environmental Toxicology and Chemistry
Vol. 5 Iss. 6 (1986) p. 567 - 576
Available at: http://works.bepress.com/steven_bradbury/56/