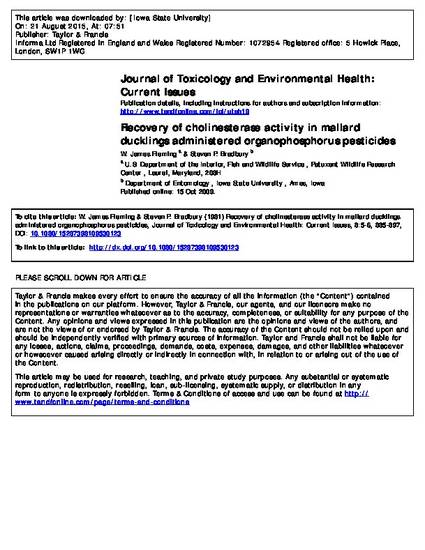 Article
Recovery of Cholinesterase Activity in Mallard Ducklings Administered Organophosphorus Pesticides
Journal of Toxicology and Environmental Health: Current Issues
Publication Version
Published Version
Publication Date
1-1-1981
DOI
10.1080/15287398109530123
Abstract
Oral doses of the organophosphorus pesticides acephate, dicrotophos, fensuifothion, fonofos, malathion, and parathion were administered to mallard ducklings (Anas platyrhynchos), and brain and plasma cholinesterase (ChE) activities were determined for up to 17 d after dosing. In vivo recovery of brain ChE activity to within 2 standard deviations of the mean activity of undosed birds occurred within 8 d, after being depressed an average of 25-58% at 24 h after dosing. In vivo recovery of plasma ChE appeared as fast as or faster than that of brain, but the pattern of recovery was more erratic and therefore statistical comparison with brain ChE recovery was not attempted. In vitro tests indicated that the potential for dephosphorylation to contribute to in vivo recovery of inhibited brain ChE differed among chemical treatments. Some ducklings died as a result of organophosphate dosing. In an experiment in which ducklings within each treatment group received the same dose (mg/kg), the brain ChE activity in birds that died was less than that in birds that survived. Brain ChE activities in ducklings that died were significantly different among pesticide treatments: fensuifothion > parathion > acephate > malathion (p < 0.05).
Rights
Works produced by employees of the U.S. Government as part of their official duties are not copyrighted within the U.S. The content of this document is not copyrighted.
File Format
application/pdf
Citation Information
Steven P. Bradbury and W. James Fleming. "Recovery of Cholinesterase Activity in Mallard Ducklings Administered Organophosphorus Pesticides"
Journal of Toxicology and Environmental Health: Current Issues
Vol. 8 Iss. 5-6 (1981) p. 885 - 897
Available at: http://works.bepress.com/steven_bradbury/55/