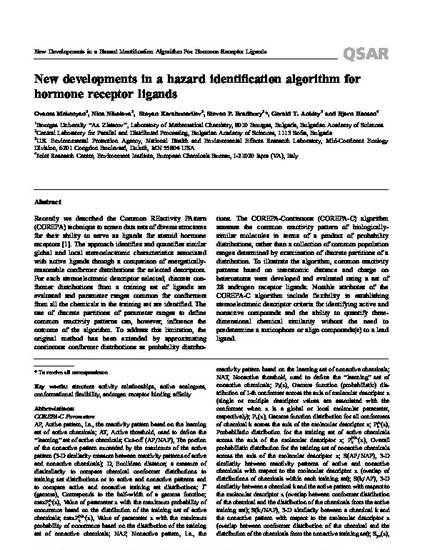 Article
New Developments in a Hazard Identification Algorithm for Hormone Receptor Ligands
Quantitative Structure-Activity Relationships (1999)
Abstract
Recently we described the Common REactivity PAttern (COREPA) technique to screen data sets of diverse structures for their ability to serve as ligands for steroid hormone receptors [1]. The approach identi®es and quanti®es similar global and local stereoelectronic characteristics associated with active ligands through a comparison of energeticallyreasonable conformer distributions for selected descriptors. For each stereoelectronic descriptor selected, discrete conformer distributions from a training set of ligands are evaluated and parameter ranges common for conformers from all the chemicals in the training set are identi®ed. The use of discrete partitions of parameter ranges to de®ne common reactivity patterns can, however, in¯uence the outcome of the algorithm. To address this limitation, the original method has been extended by approximating continuous conformer distributions as probability distributions. The COREPA-Continuous (COREPA-C) algorithm assesses the common reactivity pattern of biologicallysimilar molecules in terms of a product of probability distributions, rather than a collection of common population ranges determined by examination of discrete partitions of a distribution. To illustrate the algorithm, common reactivity patterns based on interatomic distance and charge on heteroatoms were developed and evaluated using a set of 28 androgen receptor ligands. Notable attributes of the COREPA-C algorithm include ¯exibility in establishing stereoelectronic descriptor criteria for identifying active and nonactive compounds and the ability to quantify threedimensional chemical similarity without the need to predetermine a toxicophore or align compounds(s) to a lead ligand.
Keywords
structure activity relationships,
active analogues,
conformational flexibility,
androgen receptor binding affinity
Publication Date
June, 1999
Citation Information
Steven P. Bradbury, Ovanes Mekenyan, Nina Nikolova, Stoyan Karabunarliev, et al.. "New Developments in a Hazard Identification Algorithm for Hormone Receptor Ligands"
Quantitative Structure-Activity Relationships
Vol. 18 Iss. 2 (1999)
Available at: http://works.bepress.com/steven_bradbury/18/