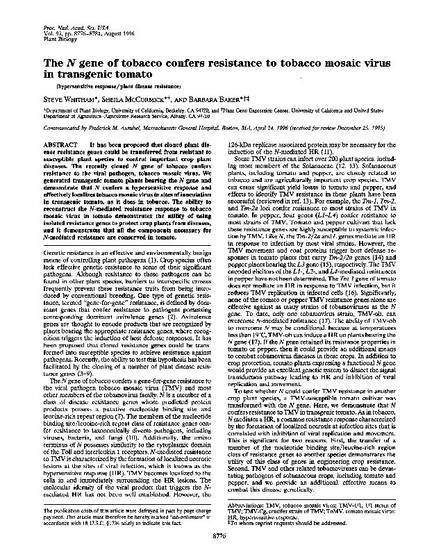 Article
The N gene of tobacco confers resistance to tobacco mosaic virus in transgenic tomato
Proceedings of the National Academy of Sciences of the United States of America (1996)
Abstract
It has been proposed that cloned plant disease resistance genes could be transferred from resistant to susceptible plant species to control important crop plant diseases. The recently cloned N gene of tobacco confers resistance to the viral pathogen, tobacco mosaic virus. We generated transgenic tomato plants bearing the N gene and demonstrate that N confers a hypersensitive response and effectively localizes tobacco mosaic virus to sites of inoculation in transgenic tomato, as it does in tobacco. The ability to reconstruct the N-mediated resistance response to tobacco mosaic virus in tomato demonstrates the utility of using isolated resistance genes to protect crop plants from diseases, and it demonstrates that all the components necessary for N-mediated resistance are conserved in tomato.
Citation Information
Steven A. Whitham, S. McCormick and B. Baker. "The N gene of tobacco confers resistance to tobacco mosaic virus in transgenic tomato"
Proceedings of the National Academy of Sciences of the United States of America
Vol. 93 Iss. 16 (1996) p. 8776 - 8781
Available at: http://works.bepress.com/steven-whitham/20/