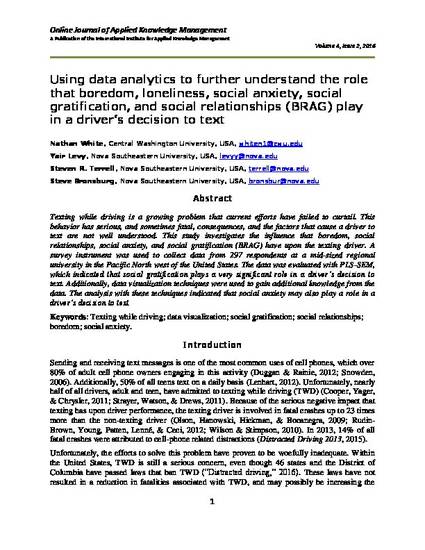 Article
Using data analytics to further understand the role that boredom, loneliness, social anxiety, social gratification, and social relationships (BRAG) play in a driver's decision to text
Online Journal of Applied Knowledge Management
Description
Texting while driving is a growing problem that current efforts have failed to curtail. This behavior has serious, and sometimes fatal, consequences, and the factors that cause a driver to text are not well understood. This study investigates the influence that boredom, social relationships, social anxiety, and social gratification (BRAG) have upon the texting driver. A survey instrument was used to collect data from 297 respondents at a mid – sized regional university in the Pacific North west of the United States. The data was evaluated with PLS - SEM, which indicated that social gratification plays a very significant role in a driver's decision to text. Additionally, data visualization techniques were used to gain additional knowledge from the data. The analysis with these techniques indicated that social anxiety may also play a role in a driver's decision to text.
Citation Information
Nathan White, Yair Levy, Steven R. Terrell and Steve Bronsburg. "Using data analytics to further understand the role that boredom, loneliness, social anxiety, social gratification, and social relationships (BRAG) play in a driver's decision to text"
Online Journal of Applied Knowledge Management
Vol. 4 Iss. 2 (2016) p. 1 - 16
Available at: http://works.bepress.com/steven-terrell/45/