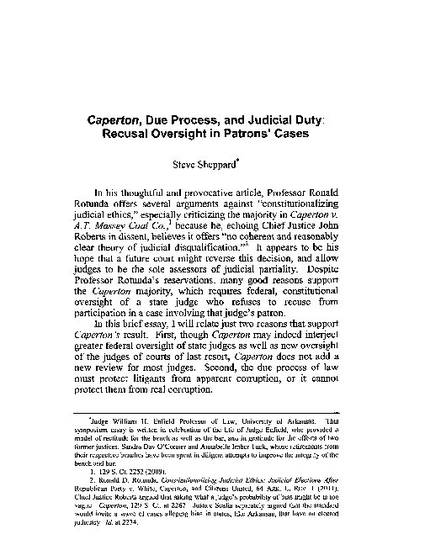 Article
Caperton, Due Process, and Judicial Duty: Recusal Oversight in Patrons' Cases
Ark. L. Rev. (2011)
Abstract
In celebration of the life of Judge William E. Enfield, this article discusses the necessity of granting all litigants the right to fair trials with impartial judges. Judges should recuse themselves from cases that involve conflicts of interest, which may result in partiality from the bench. However, judges do not always opt for recusal, even when their impartiality is in question. In Caperton v. A.T. Massey Coal Co., 556 U.S. 868 (2009), the Court evaluated West Virginia Supreme Court Justice Brent Benjamin's decision not to disqualify himself from a case involving a litigant who made large contributions to his election campaign. The Court's ruling requires federal oversight over state judges who refuse to recuse themselves from cases involving patron litigants. Although the majority opinion in Caperton has drawn notable criticism from Professor Ronald Rotunda, there are at least two good reasons to support the Court's majority. First, for most judges, Caperton does little to increase the constitutional burden on them. Even before Caperton, denied motions for recusal were reviewable by other courts. Now, under Caperton, federal courts may also review state court judges who refuse recusal requests. Second, a seemingly tainted judge's assurance of propriety will do little to comfort a concerned litigant. Though no direct evidence in Caperton indicated Justice Benjamin would not have ruled impartially, it is appropriate to consider what the proper burden of proof would be. If Justice Benjamin had been crooked, he likely would not have disseminated concrete evidence of it. Without protecting against apparent impropriety, due process of law cannot protect litigants against actual impropriety. Allowing federal courts to review state court judges furthers the goal of providing fair proceedings to every litigant.
Keywords
Caperton v. A.T. Massey Coal Co.,
556 U.S. 868 (2009),
fair trial,
impartial,
recuse,
recusal request,
Ronald Rotunda,
Justice Brent Benjamin,
federal court,
state court,
review,
judge,
justice,
West Virginia Supreme Court,
Constitutionalizing Judicial Ethics: Judicial Elections After Republican Party v. White,
Caperton,
and Citizens United,
64 Ark. L. Rev. 1 (2011),
Judge William H. Enfield Professor of Law,
Justice Sandra Day O'Connor,
Annabelle Imber Tuck
Citation Information
Steve Sheppard. "Caperton, Due Process, and Judicial Duty: Recusal Oversight in Patrons' Cases"
Ark. L. Rev.
Vol. 64 (2011)
Available at: http://works.bepress.com/steve_sheppard/7/