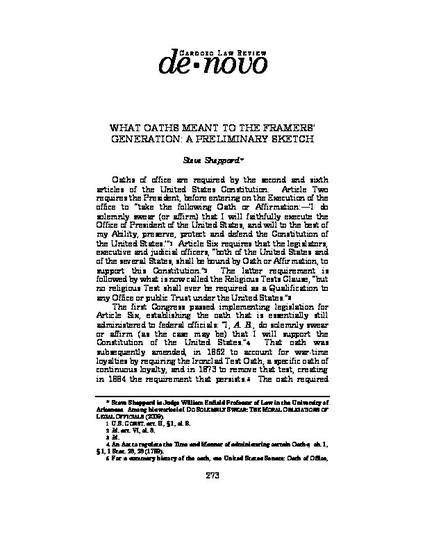 Article
What Oaths Meant to the Framers' Generation: A Preliminary Sketch
Cardozo L. Rev. de novo (2009)
Abstract
To the Framers' generation, oaths of office were understood as commitments, both public and personal, which stemmed from a source of morality. Recent discussions have raised concerns over whether or not the closing phrase in many oaths of office, "so help me God," demonstrates a possible preference by the Framers for religious leaders and commitments to God. Oaths are not only an acceptance of an office itself, but also the acceptance of the office's obligations. While oaths state an office's obligations generally, the obligations include all that could be reasonably inferred from the nature of the office, including the use of one's best efforts and performance in good faith. The Framers acknowledged morality's importance in taking oaths. Breaching the commitments one took under oath would constitute an immoral act, which a moral person strives to avoid. Even though the phrase "so help me God" introduces religious language into an oath, it would be a mistake to think of oaths as purely religious commitments. Instead, the Framers' generation understood oaths as obligations taken subject to one's own source of morality, whatever source that may be.
Keywords
Oaths,
Morality,
so help me God,
Framers,
Obligation,
Commitment,
office,
Legislative,
executive,
judicial,
Marbury v. Madison,
5 U.S. 137 (1803)
Citation Information
Steve Sheppard. "What Oaths Meant to the Framers' Generation: A Preliminary Sketch"
Cardozo L. Rev. de novo
Vol. 2009 (2009)
Available at: http://works.bepress.com/steve_sheppard/16/