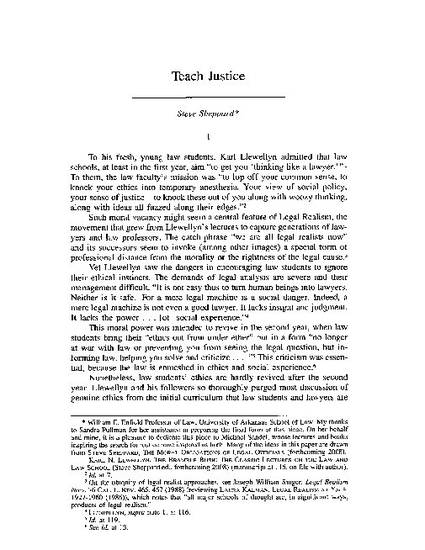 Article
Teach Justice
Harv. C.R.-C.L. L. Rev. (2008)
Abstract
Law schools must improve their preparation of students to practice law ethically. Current law school curricula focus on preparing students to analyze legal issues but not ethical issues. A curriculum that encourages students to distance themselves from their ethical instincts is dangerous. A value-neutral approach to the law eventually leads to distortions of the law. Lawyers will be left without a proper way to sense the purpose behind the law, and they will instead focus solely on what the law requires or allows. While law schools could choose from limitless lists of moral values to include in their curricula, this article suggests four: (1) the law should ensure fair treatment among all; (2) the law must be told the truth; (3) the law must be just in its procedure; and (4) every lawyer should promote justice. The current casebook curriculum already addresses these ethical issues, as they are involved in many legal disputes; all that is left is to give them more attention. Law schools should take care to train new lawyers to exemplify these values.
Keywords
values,
morality,
legal ethics,
Karl Llewellyn,
justice,
curriculum,
law school,
teach,
professors
Citation Information
Steve Sheppard. "Teach Justice"
Harv. C.R.-C.L. L. Rev.
Vol. 43 (2008)
Available at: http://works.bepress.com/steve_sheppard/13/