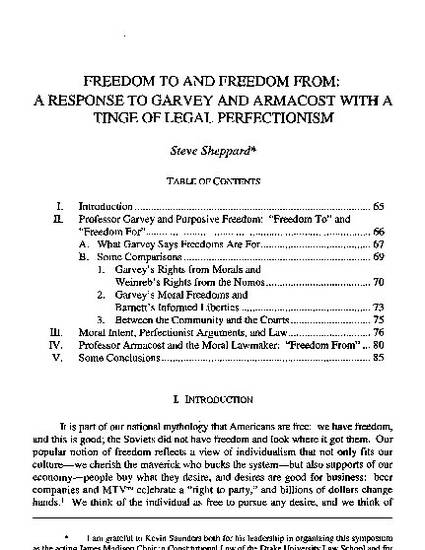 Article
Freedom to and Freedom From: A Response to Garvey and Armacost with a Tinge of Legal Perfectionism
Drake L. Rev. (1998)
Abstract
In his article Control Freaks, 47 Drake L. Rev. 1 (1998), Professor John Garvey offers a controversial explanation of how freedom works and why it is good, which is something the traditional American narrative of freedom assumes without attempting a further justification. Professor Garvey's theory of freedom depends on freedom's instrumental quality. Freedom is the mechanism that protects a citizen's abilities to lead a good life and to act for moral purposes. Professor Garvey asserts that lawmakers must first evaluate the morality of an act before they decide whether it deserves protection. When an act does not serve a moral purpose, it should not be protected. His theory on freedom seems to fall somewhere between the theories of Lloyd Weinreb, who is more sensitive to notions of justice accepted by the community, and Randy Barnett, who stresses reliance on natural law. Barbara Armacost's examination, in Constitutional Remedies and the Morality of Government Action: A Response to Garvey, 47 Drake L. Rev. 19 (1998), of what citizens have "freedoms from" argues that Professor Garvey fails to discuss the moral basis for citizens' freedom from abusive officials. In some measure, lawmakers should treat citizens in the manner they themselves would prefer to be treated. Although many public officials are immune from liability, citizens have non-legal avenues for redress when abuses exist. Citizens may taint the reputations of public officials or they may choose to ignore unjust laws. Professor Garvey creates an intriguing theory on the source and purpose of freedom. Though controversial, his theory invites us to examine our own ideas of moral authority. If citizens are granted freedoms to act for moral purposes, surely public officials are required to reach moral decisions in their duties as well.
Keywords
John Garvey,
Lloyd Weinreb,
Randy Barnett,
Barabara Armacost,
Legal perfectionism,
Freedoms to,
Freedoms from,
Control Freaks,
natural law,
moral authority,
community notions of justice,
freedom,
governmental immunity.
Citation Information
Steve Sheppard. "Freedom to and Freedom From: A Response to Garvey and Armacost with a Tinge of Legal Perfectionism"
Drake L. Rev.
Vol. 47 (1998)
Available at: http://works.bepress.com/steve_sheppard/10/