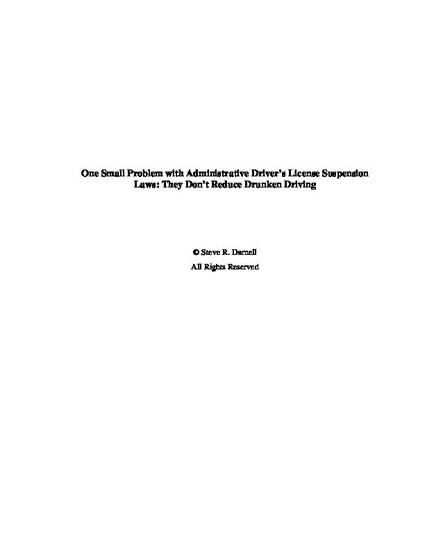 Unpublished Paper
One Small Problem with Administrative Driver's License Suspension Laws: They Don't Reduce Drunken Driving
ExpressO (2015)
Abstract
Only eight states continue to rely on the judicial system to suspend a drunken driver's license instead of an administrative process. Federal agencies and special interest groups such as Mothers Against Drunk Driving (MADD) and the Insurance Institute for Highway Safety press for Administrative License Suspension (ALS) laws arguing these laws reduce drunken driving. While some research supports this view, there is an equally and more compelling literature indicating ALS laws are not effective in reducing drunken driving. This study analyzed data from eight states that have adopted ALS laws to determine if the ALS laws reduced drunken driving. A selection process was employed that identified eight diverse states without factors that might confound the results. For each of the eight states, single vehicle nighttime (SVN) crash fatalities and driver fatalities with blood alcohol concentration of .01 or greater (BAC .01↑) were analyzed. An auto-regressive with an integrated moving average (ARIMA) statistical model was used to compare 36 months of pre-ALS law data to 36 months of post-ALS law data for each state. If the ALS laws reduce drunken driving, then a statistically significant change should be observed in the data at the ALS law's intervention date. However, only one state showed a potential reduction in drunken driving in just one of its major drunken driving proxies. The remaining states' data indicate the ALS laws had no effect on drunken driving. The analyses as a whole support the conclusion that ALS laws do not deter drunken drivers.
Publication Date
January 23, 2015
Citation Information
Steve R Darnell. "One Small Problem with Administrative Driver's License Suspension Laws: They Don't Reduce Drunken Driving"
ExpressO
(2015)
Available at: http://works.bepress.com/steve_darnell/1/