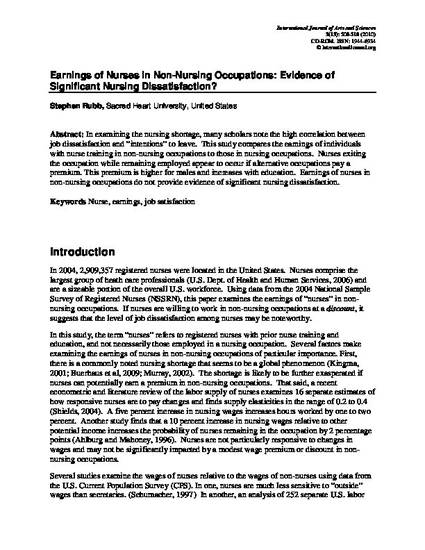 Article
Earnings of Nurses in Non-Nursing Occupations: Evidence of Significant Nursing Dissatisfaction?
WCOB Faculty Publications
Publication Date
1-1-2010
Abstract
In examining the nursing shortage, many scholars note the high correlation between job dissatisfaction and "intentions" to leave. This study compares the earnings of individuals with nurse training in non-nursing occupations to those in nursing occupations. Nurses exiting the occupation while remaining employed appear to occur if alternative occupations pay a premium. This premium is higher for males and increases with education. Earnings of nurses in non-nursing occupations do not provide evidence of significant nursing dissatisfaction.
Citation Information
Stephen D. Rubb. "Earnings of Nurses in Non-Nursing Occupations: Evidence of Significant Nursing Dissatisfaction?" (2010)
Available at: http://works.bepress.com/stephen_rubb/1/