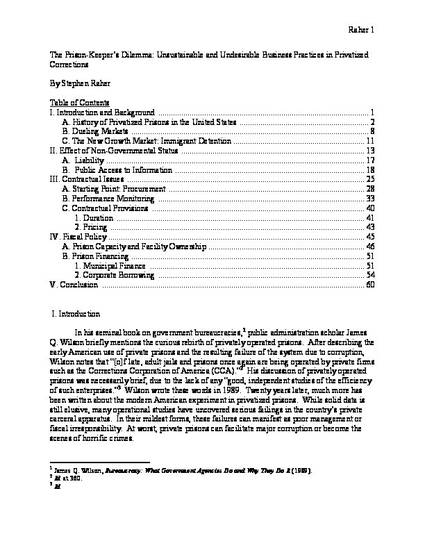 Unpublished Paper
The Prison-Keeper's Dilemma: Unsustainable and Undesirable Business Practices in Privatized Corrections
(2009)
Abstract
During the well-documented expansion of the American prison system in the late twentieth century, privately operated correctional institutions experienced an especially pronounced rate of growth. A substantial body of research has addressed operational shortcomings of private prisons, but less attention has been devoted to the business-law aspects of correctional outsourcing. This paper explores some of the persistent contractual and fiscal problems that arise when prison operation is delegated to for-profit firms.
Non-governmental prison operation inevitably leads to reduced transparency when private operators seek to prevent public access to operational information, typically by citing a proprietary interest in business records. Although accountability to the public-at-large is clearly hampered by prison privatization, contractors frequently cite government monitoring as a reliable substitute for more general transparency. As shown here, the prospect of effective contract-monitoring is extremely doubtful, due both to lack of clarity in procurement processes and reduced incentive for many government monitors to aggressively enforce contractual terms. As some states become increasingly reliant on private vendors to provide carceral capacity, states' leverage in contract negotiation and enforcement declines. This dynamic of "captive" states becomes more pronounced as the national market for immigrant detention facilities continues to grow and contractors are able to walk away from state contracts in favor of more lucrative federal contracts.
The private prison industry, like many American businesses, built its late-twentieth-century expansion on easy access to credit. As credit markets continue to adjust in response to the financial crisis, the future financial viability of the leading private prison companies is unclear. One irony, however, is that prison privatization was originally sold as an innovative way to avoid governmental borrowing. While this is sometimes (but not always) true from a technical standpoint, states which depend on privately owned prison infrastructure are at least indirectly liable for corporate debt, since states would have to negotiate with corporate creditors in the event of contractor insolvency. The paper's conclusion briefly considers potential policy alternatives for dismantling the modern private prison industry.
Keywords
private prisons,
corrections,
privatization
Citation Information
Stephen Raher. "The Prison-Keeper's Dilemma: Unsustainable and Undesirable Business Practices in Privatized Corrections" (2009)
Available at: http://works.bepress.com/stephen_raher/2/