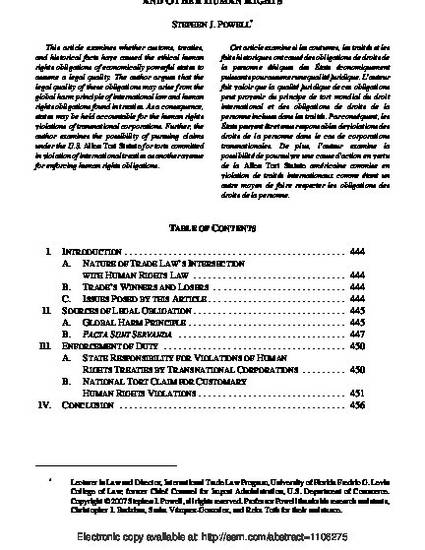 Article
Should or Must? Nature of the Obligation of States to Use Trade Instruments for the Advancement of Environmental, Labor, and Other Human Rights
Alberta Law Review (2007)
Abstract
States have been careful to couch their human rights commitments in terms that avoid binding and measurable actions to ensure the human rights either of their own citizens or those in other countries. Despite the promise of a dozen U.N. treaties, states continue to equivocate as to measures necessary to meet critical individual needs. This essay argues that, nonetheless, the question whether economically powerful states may be held to human rights observance is not solely moral in nature. Instead, through a combination of treaties, custom, and historical facts, the human rights obligation of developed states has taken on penumbral legal or rule-based characteristics. The clear historical record of 60 years of operation of the modern system of financial and economic instruments created by the major trading nations after World War II proves the severely adverse effects of the system on much of the world's population. Far too many people suffer from poverty, lack of clean air to breathe or clean water to drink, unmet needs for essential medicines to treat modern plagues such as HIV-AIDS, overt racial and sexual discrimination at work, dying indigenous cultures that had survived thousands of years before the Bretton Woods System, and continued marginalization from political and economic attention.
Combined with the principles of global harm and pacta sunt servanda, this undeniable, inevitable, predictable, and preventable record of globalization's "creative destruction" gives rise to an enforceable legal obligation on the part of economically healthy states to make reparations for the human rights violations caused by their actions and by those of the transnational corporations subject to their jurisdiction. In extreme cases, regional human rights courts and national courts have enforced this obligation, using both tort and constitutional rights deprivation theories to find jurisdiction.
Keywords
global harm principle,
transboundary harm,
pacta sunt servanda,
WTO,
territorial effects doctrine,
Vienna Convention on the Law of Treaties,
state jurisdiction,
U.S. Alien Tort Statute,
human rights violation remedies,
reparations,
objective territorial principles,
Brettons Woods System
Publication Date
November, 2007
Citation Information
Stephen J Powell. "Should or Must? Nature of the Obligation of States to Use Trade Instruments for the Advancement of Environmental, Labor, and Other Human Rights"
Alberta Law Review
Vol. 45 Iss. 2 (2007)
Available at: http://works.bepress.com/stephen_powell/5/