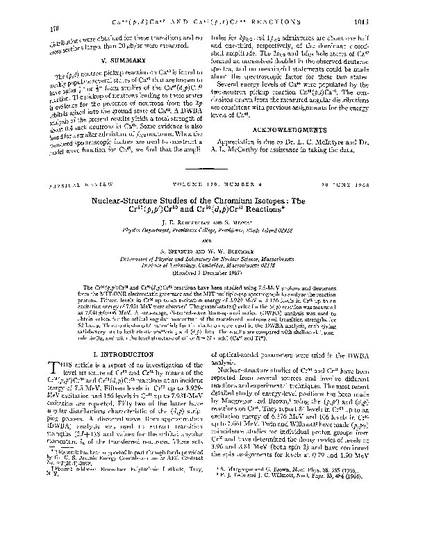 Article
Nuclear-Structure Studies of the Chromium Isotopes: The Cr50(p,p')Cr50 and Cr50(d,p)Cr51 Reactions
Physical Review (1968)
Abstract
The Cr50(p,p')Cr50 and Cr50(d,p)Cr51 reactions have been studied using 7.5-MeV protons and deuterons from the MIT-ONR electrostatic generator and the MIT multiple-gap spectrograph to analyze reaction protons. Fifteen levels in Cr50 up to an excitation energy of 3.929 MeV and 156 levels in Cr51 up to an excitation energy of 7.931 MeV were observed. The ground-state Q value for the (d,p) reaction was measured as 7.041±0.006 MeV. A zero-range, distorted-wave Born-approximation (DWBA) analysis was used to obtain values for the orbital angular momentum of the transferred neutrons and transition strengths for 52 levels. Three optical-model potentials for the deuteron were in used in the DWBA analysis, each giving satisfactory fits to both elastic scattering and (d,p) data. The results are compared with shell-model, sum-rule limits, and with the level structure of other N=27 nuclei (Ca47 and Ti49).
Publication Date
June, 1968
Citation Information
Stephen J. Mecca. "Nuclear-Structure Studies of the Chromium Isotopes: The Cr50(p,p')Cr50 and Cr50(d,p)Cr51 Reactions"
Physical Review
Vol. 170 Iss. 4 (1968)
Available at: http://works.bepress.com/stephen_mecca/7/