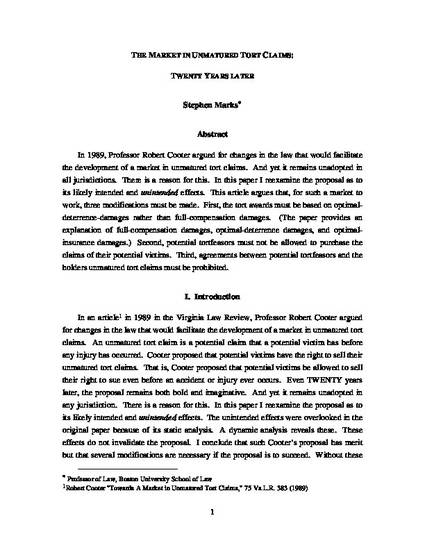 Unpublished Paper
The Market in Unmatured Tort Claims: Twenty Years Later
ExpressO (2011)
Abstract
In 1989, Professor Robert Cooter argued for changes in the law that would facilitate the development of a market in unmatured tort claims. And yet it remains unadopted in all jurisdictions. There is a reason for this. In this paper I reexamine the proposal as to its likely intended and unintended effects. This article argues that, for such a market to work, three modifications must be made. First, the tort awards must be based on optimal-deterrence-damages rather than full-compensation damages. (The paper provides an explanation of full-compensation damages, optimal-deterrence damages, and optimal-insurance damages.) Second, potential tortfeasors must not be allowed to purchase the claims of their potential victims. Third, agreements between potential tortfeasors and the holders unmatured tort claims must be prohibited.
Keywords
torts,
tort law,
unmatured,
unmatured tort claims,
Cooter,
optimal,
optimal deterrence,
optimal insurance,
full compensation,
economics,
law and economics,
economic analysis,
economic analysis of law
Publication Date
March 21, 2011
Citation Information
Stephen G Marks. "The Market in Unmatured Tort Claims: Twenty Years Later"
ExpressO
(2011)
Available at: http://works.bepress.com/stephen_marks/1/