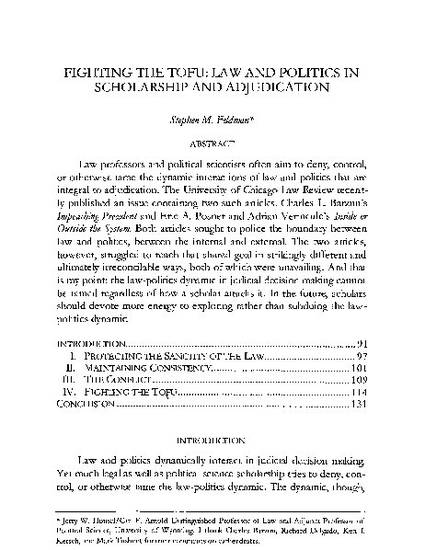 Article
Fighting the Tofu: Law and Politics in Scholarship and Adjudication
Cardozo Public Law, Policy and Ethics Journal (2015)
Abstract
Law professors and political scientists often aim to deny, control, or otherwise tame the dynamic interactions of law and politics that are integral to adjudication. The University of Chicago Law Review recently published an issue containing two such articles:  Charles L. Barzun's Impeaching Precedent and Eric A. Posner and Adrian Vermeule's Inside or Outside the System.  Both articles sought to police the boundary between law and politics, between the internal and external.  The two articles, however, struggled to reach that shared goal in strikingly different and ultimately irreconcilable ways, both of which were unavailing.  And that is my point: the law-politics dynamic in judicial decision making cannot be tamed regardless of how a scholar attacks it.  In the future, scholars should devote more energy to exploring rather than subduing the law-politics dynamic.
Keywords
law and politics,
scholarship,
adjudication
Citation Information
Stephen M. Feldman. "Fighting the Tofu: Law and Politics in Scholarship and Adjudication"
Cardozo Public Law, Policy and Ethics Journal
Vol. 14 (2015) p. 91
Available at: http://works.bepress.com/stephen_m_feldman/64/